Table of Contents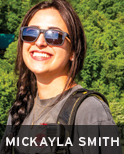 MICKAYLA SMITH
Tramway Operations Supervisor, Ober Gatlinburg, Tenn.
Age: 22

When MicKayla Smith moved from Pennsylvania to Tennessee as a teenager, she wasn't expecting to find a ski resort near her new home. But once Smith discovered Ober Gatlinburg, she knew she wanted to be involved with the operation. Smith started as a tram operator and was eager to learn everything. Her insatiable curiosity landed her an apprenticeship with the tramway superintendent and set her on the path back to school to study industrial electricity. Now, Smith does it all: "I can do everything from sell tickets, to make snow to change a circuit card on the tramway," she says.

What was your most defining career moment?
When I first started to work with my mentor, Danny Dixon, one of our first big projects was shortening the haul rope. That involves several people walking out on the cable to set up rigging equipment. A little over a year later, my boss told me he wanted me to walk the cables. I was a nervous wreck. After overcoming that challenge, my mindset completely changed. I realized that the will to try and learn is all it takes to be successful.

Describe a challenge you encountered this winter and how you overcame it.
I think the biggest challenge that I overcome sometimes on a daily basis is being a female in a field where, at my resort, there are no other females and learning to accommodate for a lack of strength with brains.

Another challenge is trying not to drink too much coffee when you are making snow—you get the jitters.

You ran the tramway with record efficiency this year—what's the key?
I think the biggest key is proper training. We have a "load and go" procedure that is super efficient. When I first started working behind the scenes for the tramway, I really structuralized the system that was in place. When you have properly trained tram operators, that's when you get the best movement on the tram.

What was your most memorable working moment on snow this season?
As soon as our nighttime snowmaking crew left for the season, we had four days of really cold temperatures. I'm on the day snowmaking crew, but my boss told us we were going to be the night crew. That was my first time making snow at night, and there was just so much camaraderie. We absolutely killed it—we actually extended the season for two weeks.

Are there any developments that have you stoked about the future of the snowsports industry?
I think the new technology as far as lifts is very impressive. I am ready to see some cool installations like at Big Sky with Ramcharger—the way the bullwheel and gearbox are laid out on that thing is just so cool.

What role do you see the industry playing in combatting climate change?
The biggest challenge we face is getting away from fossil fuel driven auxiliary backups, groomers, snowmobiles, etc. I have faith my generation will make technological leaps.