Table of Contents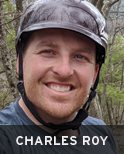 Charles "Charlie" Roy
Title: Training Manager, Cannon Mountain, N.H.
Age: 29
Charlie Roy switched from ski racing to snowsports instruction while attending the University of New Hampshire. "I got kind of addicted to it," says Charlie of his time coaching at Cannon. By the time he finished his degree, he'd decided an office job wasn't for him. Charlie moved to Burlington, Vt., and became the ski school manager at Bolton Valley. Two seasons later, he joined Stowe, Vt., as a ski school supervisor. Then, in 2018, things came full-circle; Charlie moved back to Cannon to become the training manager. All the while, he pursued PSIA certification. A rising star in PSIA's Eastern Division, Charlie is a member of the Development Team and earned a coveted spot on the Eastern Team, which will take him to National Team tryouts next spring.
What was the defining moment in your snowsports career?
Getting that first full-time manager job at Bolton Valley. That was when I decided I wanted to work in the ski industry full time. That first year, the director and I were both new to the mountain. So, it was pretty fun and challenging going in and taking over a whole ski school, putting our twist on what was already there.
How and why did you become involved with PSIA-AASI Eastern?
I started as a snowboard instructor at Cannon, and I would go to training in the mornings before I taught. I've always liked learning and having goals. PSIA-AASI gave me a framework. When I went to my snowboard level I, watching the examiner rip around and the way they worked in front of the group, I thought, I want to do that but with skiing. I started knocking out certifications. It was a lot of work. After my alpine level III, Development Team seemed like the next step. That tryout was super fun.
Worst professional advice you've gotten?
I've heard many times that you can't make a living in the ski industry. I find that to be terrible advice. We have a junior instructor program at Cannon. We get a lot of young instructors coming out of that program. They love skiing, but they don't see the potential of what they could do. None of us are getting rich in the ski industry, but how sweet is it that we get to go skiing every day? And there is opportunity. You have to pursue it.
What long-term changes do you see for the industry with COVID-19?
A lot of season passes aren't being purchased. I think next season, day tickets will be king. We've seen a swing in the past few years toward mega season passes, so this may change the demographic. From a ski school perspective, the indoor pieces of it tend to be in comparatively small areas. So, I see more private lessons, more lessons meeting out on the snow instead of inside. It will be dynamic and will definitely depend on the guidelines.
How are you staying flexible to meet the changes arising from the pandemic?
Physically? I have transferred to the mountain bike. I actually got a new bike this year, so I've really been having fun. Mostly, I'm just trying to look ahead to next year. It might be different, but we'll still be able to slide on snow.