Table of Contents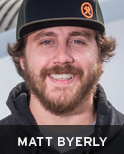 Matt Byerly
Title: Terrain Park Manager, Mountain Creek, N.J.
Age: 27
Matt Byerly clicked into his first pair of planks at age nine and was hooked. By the time he turned 12, "All I wanted to do was go in the terrain park," he says. College took him south, from central Pennsylvania to West Virginia University, where he spent winters returning to his home state to hit features at Seven Springs. After graduating with a degree in recreation, parks, and tourism, Matt was dead set on finding a job in the snowsports industry. He started as the youth program manager at Snowshoe, W.Va., before taking a step back into more consumer-facing roles. When he got a tip about the terrain park manager position at Mountain Creek, Matt jumped at the chance: "I never thought I would find a job that was so fulfilling to me."
What was the defining moment in your snowsports career?
I was going into my second winter as the youth program manager at Snowshoe. I knew I was in the right industry, but not the right role. And I resolved to find the role that brought me fulfilment. I figured out I needed to be working a little more closely with people—I needed that direct line from what I do to guest satisfaction. I wanted to start from the ground up on a frontline position, learn more and work my way up. I became a mountain bike instructor. Then in the winter of 2018-19 I worked as a terrain park supervisor at Snowshoe.
Tell me about a memorable customer experience.
There is a skier here at Mountain Creek, I want to say he's 17 years old, he found me on Instagram and wanted to tell me that I was making his experience on the mountain better. That meant so much to me, because when I was 17, I wanted to be at the sickest parks. That this kid wanted to keep coming back to our parks made all the hard work and long hours worth it.
Describe a challenge you've encountered and how you overcame it.
I have zero grooming experience—I've ridden around in the red cats and silver cats, but I've never gotten behind the sticks. So, my biggest challenge this year was trying to figure out how to communicate with our grooming staff. I can be pretty picky with how I want my parks. But I spent lots of time with the groomers, asking them questions, if stuff was possible. I would try to break ideas down until we had a decent understanding on both ends. Then they could come back and say, "Yes, it's possible." Or, "Yes, but it's going to take forever to do," and I could come up with a different plan.
What leadership traits do you admire?
An open-door policy and trust. Knowing that I have people above me who trust me, having that support system is crucial. If there is anything I need—information or resources—I know who I can go to. Everyone at Mountain Creek is eager to help.
How have you been passing the time during isolation?
It wasn't uncommon for me to spend 80-plus hours a week on the mountain. I didn't spend a lot of time making meals for myself this winter. So, I spent a lot of time learning to cook. It felt good to learn a new skill.