Table of Contents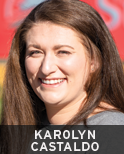 Karolyn Castaldo
Title: Director of Communications, Sunday River, Maine
Age: 28
"One of my favorite parts of my job is getting to tell people how wonderful this place is," says Karolyn Castaldo, director of communications at Sunday River. She grew up skiing the resort, but didn't plan on working there. She actually went to University of Denver to study creative writing and pursued a master's degree in publishing. After graduating, though, Karolyn decided to spend a year as a ski bum. She joined Sunday River as a snow reporter. One season turned into several as Karolyn rose through the communications and marketing ranks. She jumped over the border to New Hampshire for a while, serving as Ski NH's marketing manager, before returning to Maine in her current role.
What was the defining moment in your snowsports career?
My time at Ski NH was really what solidified wanting to be in the ski industry as a whole, not just enjoying the ski bum life. There are so many things that associations do on the advocacy side, in government relations, and working on initiatives like Learn to Ski, that are important to growing the sport and making sure it's a viable business. That time learning, growing, and meeting so many amazing people really made it stick that this is what I want to be doing for the rest of my life.
You serve on the board of Ski Maine. Why?
It's been a good way to balance the sides of the industry that I love. I still get to be involved in the advocacy part and learn what is happening on a state and national level, while having the benefits of being at a resort. Part of my communications role has sort of evolved into community relations. I'm also on the board of the Bethel Chamber of Commerce for Sunday River. It's a different side of PR, not the media side, but working with the public and making sure we are listening to the community we live in.
What leadership traits do you admire?
When I worked for Ski NH, I worked for a woman named Jessyca Keeler (Ski NH executive director). One of the things I appreciated about her style was that she was always looking for ways to help me grow and find things that interested me. The same has carried through with my manager at Sunday River, Nick Lambert. That is something I try to do with my team. It's important that they are getting the most out of their time, too.
How are you staying flexible to meet the changes arising from the pandemic?
I think part of the job is always to be flexible, but this is amplifying it. The two or three days leading up to the pandemic were a total whirlwind. We were making so many plans about how to communicate with guests. I was learning crisis communication on the fly. Right now, my focus is on internal communications. Then the next step is communicating new policies and procedures to guests. One of my favorite things about communications is getting to work in so many sectors.
What field would you be in if you didn't work in snowsports?
I think doing something with editorial journalism would be fun. I write a lot in my day-to-day. That's always been a passion of mine.