Table of Contents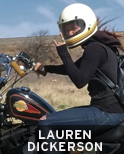 Lauren Nicole Dickerson
Title: Executive Housekeeping Manager, Taos Ski Valley, N.M.
Age: 28
"I had never really snowboarded, but I always wanted to," says Lauren Nicole Dickerson. That's a big part of why she moved to Taos from a much warmer climate. Lauren Nicole grew up in Maryland, then lived in Florida. She was eager to get on the snow, though, so she packed up her bags and headed to New Mexico. She applied for jobs at Taos Ski Valley, and started as a spa attendant. Lauren Nicole cross-trained with housekeeping, and when a supervisor position opened up in the department, she seized the opportunity to take on more responsibility. In just two years, Lauren Nicole was promoted first to assistant manager and then to executive housekeeping manager. She now runs housekeeping for The Blake—the resort's luxury hotel, which opened in 2017—as well as property management, and workforce housing.
How do you set up your team for success?
Just making sure that they are trained well, they understand safety and health regulations and all of the elements that go into housekeeping, and have all of the physical resources that they need. And I think just being honest is important—not sugarcoating things, but saying, "Today is going to be a hard day, but I believe you can do it." I want to give them that validation and prepare them for what is to come. Strong communication is really important.
How did you step up as the coronavirus situation rapidly evolved?
Leading a department was hard. People had a lot of questions, and I didn't have all the answers. A lot of J-1s were here. They were worried about their families and how they were going to get home. With the mountain closing, we had to act fast. One thing I did was make sure with all of our housekeeping leaders that our priority was to get people home safely and give them the resources to get home before all the travel bans went into place.
Tell me something you learned during the pandemic and how you can apply it in the future.
I learned how to really delegate and to not take on too much myself. And sometimes you get so caught in a routine that you don't think about changing things. So, I also learned to be more open to new things and suggestions from others. It's important to take ideas and look for ways to make things better.
What long-term changes do you see for the industry with COVID-19?
It will be important to think about how people perceive things. We are going to have changes to our housekeeping policies. We just bought fog machines and are going to fog rooms with disinfectant after each guest. You need to take into consideration that some people are going to be more sensitive to these things than others.
How have you been passing the time during isolation?
I just recently rebuilt the engine on my motorcycle. It was really rewarding. That's what motivates me, taking on new projects and learning new stuff. You never know what you are capable of until you just do it.