Table of Contents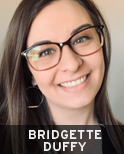 Bridgette Duffy
Title: Sales and Marketing Manager, Mont du Lac Resort, Wis.
Age: 27
Bridgette Duffy grew up in Embarrass, Minn., one of the coldest spots in the lower 48. In eighth grade, she went snowboarding for the first time. Though she bruised her tailbone, Giants Ridge still became her regular weekend hangout. She worked in sales at the ski area while studying for her associate degree in sports management, then her bachelor's degree in marketing and communications. After graduating, Bridgette migrated a little further south to Duluth. She was working in hotel marketing in the city when Mont du Lac reached out with an offer. She was stoked to make the move. "I'm back in snowsports and couldn't be happier," says Bridgette.
What was the defining moment in your snowsports career?
Definitely when I came for the interview at Mont du Lac. I had been out of the industry for a year. It was fall. I looked at the hill. There was no snow on the mountain, but I just smiled. I was so happy to be back in a recreation environment.
Describe a challenge you've encountered and how you overcame it.
This past winter we had a brand-new POS system, and we went from paper waivers to online waivers. I work with school groups. Figuring out how to get waivers signed for 200 kids was a challenge. I spent 10 minutes on the phone with one 12-year-old who was explaining the waiver to his grandparents in the background. We had to know that there would be moments like that that would take a little bit of extra time. Being able to work through it over and over as we had more school groups and ski teams, it got easier.
What leadership traits do you admire?
The biggest thing, for me, is having a positive attitude. Everyday life can get really frustrating. I push through with that positivity. And being hard working. Our GM is such a hardworking manager. He'll be out here delivering pizza to the tubing building for birthday parties I've sold. And I'll be right behind him. We believe in teamwork.
Tell me something you learned during the pandemic and how you can apply it in the future.
I think we have to be able to recognize that if we see hesitancy from guests, that's OK. And we need to figure out how to communicate the message about how we are keeping people safe. I think we need to get more on a personal level now. So, maybe that's me out there on a Facebook Live video showing guests what's going on and asking them about what they want to see and know about.
How have you been passing the time during isolation?
I had a month and a half there when I was going nuts. I love making soaps, though. There was a good pine soap that I made. It was a really pretty light green color and had a fresh northern outdoor smell.