Table of Contents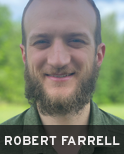 Robert "Bobby" Farrell
Title: Mechanical Engineer, Stevens Engineering, Vt.
Age: 29
Before he was an engineer, Bobby Farrell was a ski racer. He grew up in Windsor, Vt., raced for Mount Mansfield Academy at Stowe, and was even an invitee on the U.S. Ski Team. When he retired from racing, Bobby hit the books at UVM, where he earned his bachelor's and master's in mechanical engineering. While finishing his schooling, Bobby assisted on a T-bar installation at Cochran's Ski Area. That's where he got connected with Ross Stevens of Stevens Engineering. He joined Ross's team two years ago, becoming one of the few next-gen engineers that serve a vital role for the mountain resort industry. He still gets to make turns when he's not assessing projects, and says, "it's been awesome to be able to use my degree and stay in the industry."
What was the defining moment in your snowsports career?
My first site visit with Stevens Engineering. I'd spent all these years riding lifts and not really thinking about what intricate pieces of equipment they are. It was a full circle moment. When I was going through school, I'd struggled with figuring out how I was going to implement my degree. I didn't want a 9-to-5 desk job. Your typical engineering job is in aerospace or car manufacturing, but ski lifts—nobody in my degree program knew much about them.
What leadership traits do you admire?
Knowing when to give direction and knowing when to let people figure something out on their own. A lot of things I've learned over the years are things I've figured out. I'm a very hands-on learner, because it provides instant feedback—if you adjust this part of a ski lift, this is the outcome. For somebody in a leadership position to understand how everybody learns and be able to adapt to a person's style is very important.
Best professional advice you've gotten?
Be really thorough. Ross has been great at that. At times, it is easy to get going too fast and want to push a design through or to try to speed up the process. But it's very important to be thorough and look at every aspect of a design or, at a load test, every aspect of the lift.
Worst professional advice you've gotten?
If you are being told how to do something and the person is not taking the time to show you how to do it, that's bad advice. It's like an athlete where the coach just keeps repeating the same phrase. Repetitive advice that doesn't make a change is just the same as no advice at all.
What long-term changes do you see for the industry with COVID-19?
It's hard to say, but we may be faced next winter with distancing in the lift lines and that kind of stuff. The ski industry is all about capacity and getting people up the hill, so this could seriously change how people are going about things. I think that, being an outdoor sport, though, there are ways it can be done.
How have you been passing the time during isolation?
We've been busy working. But between biking, waterskiing, and working on my truck, I've got plenty to do.