Table of Contents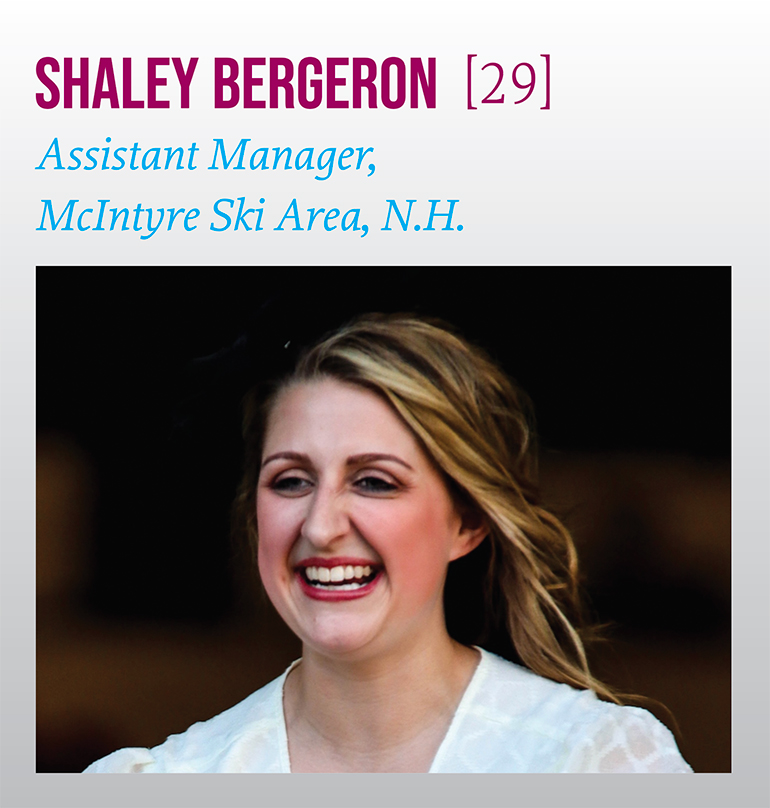 Shaley Bergeron first stood sideways on snow at 10-years-old in the McIntyre Ski Area snowsports program. She was soon hooked on the sport and the mountain lifestyle. While attending school, Shaley worked winter seasons in ticketing and events, and eventually worked her way into her current full-time year-round role as assistant manager of the ski area where she experienced her first turns. In addition, she's a fourth-year ski patroller—a testament of her commitment to the industry, and the sport.
What do you love about your job/mountain?
For me, it's all about the people and the camaraderie. We're a tight-knit family. Anyone that joins the team immediately feels like family. It's pretty special.
What's a challenge you encountered this year?
The last two seasons have been a little different, to say the least. We had to rethink our operations as we navigated the Covid-19 pandemic. During the 2020-21 season, we were insanely busy; it was an all-hands-on-deck situation every day. It was very difficult explaining to customers that the mountain and tubing was at capacity before it had even opened. We definitely had to get creative.
What are you most excited about at McIntyre next season?
We finally launched online ticket sales toward the end of last season, so we're excited to bring that to our customers next winter. I think this definitely came from the capacity struggles we experienced during the height of Covid. It'll definitely help in many day-to-day aspects.
What leadership traits do you admire the most?
Making people feel valued. I always support the underdog and help them to be seen and to shine. I'm shy, so I understand and appreciate that kind of support. I love to help people discover their potential. We have a lot of staff still in high school—about 90 percent—and it's very rewarding to help them discover and evolve into who they're going to be in life.
Your natural sense of empathy must come in handy while ski patrolling. Was that a fit for you?
I took the O.E.C. (Outdoor Emergency Care) course to join the patrol after our patrol director encouraged me to do so. I really have learned so much, and am very glad that I did that. I just want to learn as much as I can, when I can, and I love to help people.
Describe your perfect day on the mountain.
I'm pretty easy going, so I'm happy with a beautiful sunny day, with great snow (no ice!). It would be great if it ended with a beer with friends. Work-wise? I would say getting to the mountain nice and early, with great weather, fully staffed and no major operational curveballs.