Table of Contents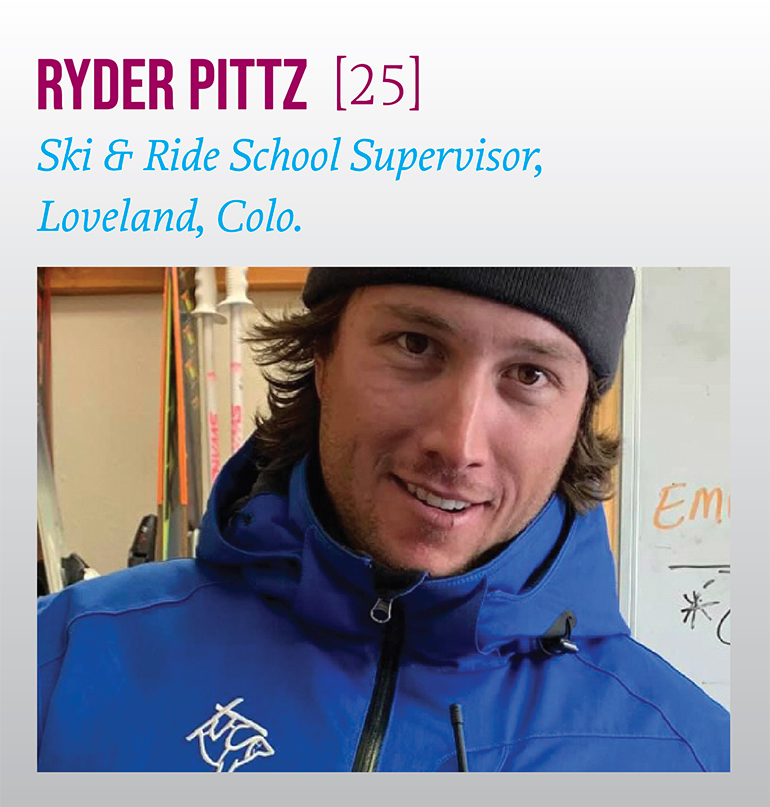 Ryder Pittz describes his career journey into snow sports as an "inevitability." The fourth generation Coloradan was raised by "two ski bums who were raised by ski bums" and has been around the world of ski instruction his whole life through his parents. While ski instruction wasn't necessarily an immediate passion, Ryder loves his mountain and the kids he teaches, and he has found purpose and fun through his role as ski and ride school supervisor at Loveland Ski Area in Colorado.
What is it about instruction that lights you up?
I love teaching kids under 14 since my own cognitive ability is that of a 10- or 12-year-old. (laughs) Joking aside, it is the only way to guarantee you'll have fun with your day. Three years ago, I jumped into the supervisor role, and now I have the opportunity to teach other instructors how to teach kids, too. While I wasn't initially drawn to instruction, I've always valued the combination of doing something and doing it well. And being able to share it with kids, plus having a natural ability for it, it becomes something that you love.
What was the biggest challenge you faced this year?
We're still dealing with impacts of Covid this year. While we were fortunate to stay open, we were navigating public health issues, as well as staffing issues. When in a managerial role at a ski area, it's not an easy job when you don't have the roles you typically do in-season. We felt it across the resort, but we managed. The relationships you build with staff help you build equity with your staff so everyone can work to get the job done.
What do you think is the industry's biggest opportunity for growth?
Loveland is the closest ski area to the Denver metro area, and we're also the last independently owned ski area on the front range. Comparatively, we're like the bargain bin, as our prices for lessons are sometimes half or a third of what others are charging. We see kids and adults trying skiing for the first time who might be priced out of the market in bigger resort towns. Loveland also works with a few groups out of the Denver area, including the Chris Anthony Youth Initiative Program, which exposes kids to more outdoor activities and experiential learning. Programs like that are great for bringing accessibility to the mountains.
What's the best professional advice you've ever gotten?
I've gotta dive deep into the chasm of my brain for this one. I have a great relationship with my boss, Dan Houston. One thing he's really good at, and what I strive to be good at, is being accessible to our team. We have a lot of young people on our staff, so helping them navigate their first full time job out of college or high school, it's important and something I try to excel at.
And the worst?
It's less advice and more of a mindset: I try to avoid being bottom-line oriented. I've worked for companies that are about maximizing profits, and that's the worst part of the capitalistic part of our society. I report to our director, and I'm the one that goes to bat for my instructors. Of course, we still need to make money, but making sure that it isn't done at the expense of the employees or the guests is what I am trying to achieve.
Fun fact?
I live in Georgetown, and a colleague's dog is my town's mayor. I didn't vote for him.