Table of Contents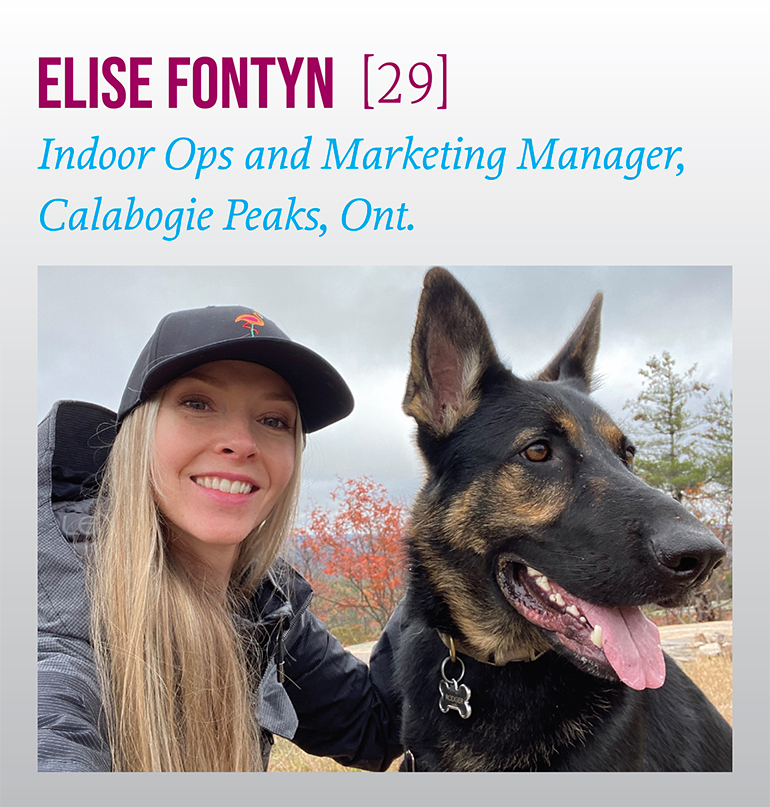 Elise Fontyn grew up in Cambridge, Ont., and started skiing at the age of five before switching to snowboarding at age nine. Elise always knew she wanted to work in the ski business, especially at one of her local ski areas. Early on in her career, Elise would take three city buses and commute two hours each way to her first job as a lift operator. "I don't know what was in the water there, but I loved it," she explains. And her love for the industry has only grown in her role at Calabogie Peaks as the indoor operations and marketing manager.
You're from a skiing family. How did that help shape your passion?
My family took a ski trip to Jay Peak (Vt.,) when I was little. I remember being in a weeklong ski school program there, and at the end of the week, they took us to the top to mountain and said "Go!" I loved it. In fact, every time my friends would travel somewhere south and warm on vacation, we would be headed somewhere wintry.
What do you love about Calabogie Peaks?
It's an hour west of Ottawa, so it's got mountains, land, and lake. It's a year-round resort with year-round offerings like golf and weddings, too. I just love the seasonality of the tourism industry. It's never dull, and just as you start to feel comfortable, the season changes and it's on to the next thing. Keeps you on your toes, and I love that kind of fast-paced work.
What is one lesson you've learned from your role at Calabogie?
Working as team is very important. When everyone gets their hands dirty, everyone understands what each person goes through. In the end, it creates a much stronger team. It also helps to spawn new ideas, and new processes to consider. Everyone can always bring something to the table, regardless of a resume or years of experience. We can all learn from each other.  
What do you think is the industry's biggest opportunity for growth?
People are starting to discover that skiing isn't that scary, and it's not that inaccessible. Covid allowed people to try new things, especially new outdoor activities. The internet is too perfect, and resorts need to start showing the honesty. No matter your age, your fitness level, or your experience, there is something out there for you. And it's great to have those kinds of offerings available here at Calabogie. In the summer, we have our beach, which is great for stand-up paddle boarding, or just hanging out on the sand, and of course, skiing and snowboarding in the winter. New people and new skiers that don't know they're skiers yet but they'll get out there.
If you could eat one thing for the rest of your life, what would it be?
Sushi. No hesitation.