Table of Contents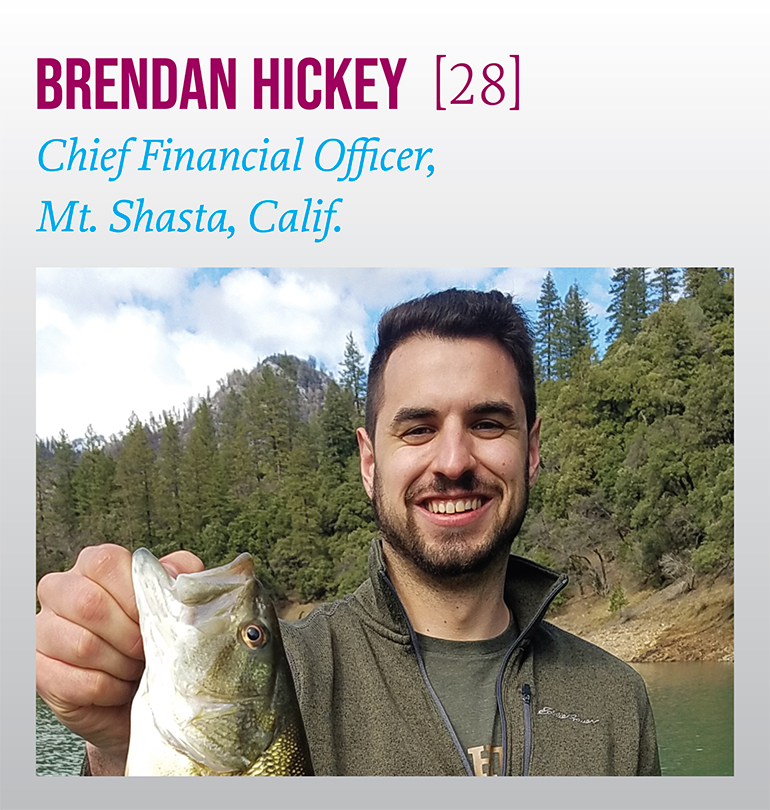 Having grown up skiing there, Brendan Hickey has always called Mt. Shasta Ski Park home, though his was not a direct-to-slopes kind of career path. After considering working for the California Highway Patrol and then finding himself confined in a cubicle, Brendan eventually made his way back home to Mt. Shasta. And while his title reads chief financial officer, he wears a lot of hats, from accounting and human resources to marketing and beyond. And even after six years with the ski area, Brendan says that no two days are the same—and he wouldn't have it any other way.
What about Mt. Shasta is special to you?
I was born and raised at Mt. Shasta. It was always my home mountain; I grew up skiing there, though it wasn't necessarily a place I had planned on working at. For a while, in college, I initially thought I wanted to work for the California Highway Patrol, however, that turned out to be too structured for my liking. I much prefer things to be dynamic, and that's one of the biggest draws for me about this business. Because we're a smaller mountain, and I'm a part of a small team, we all wear a lot of hats. Whether I'm in accounting, helping out in I.T. or building a marketing plan, it's all very fluid and keeps me on my toes.
What leadership traits do you admire?
Without question, the most important traits in a leader are integrity and transparency. These are two of the qualities I have come to appreciate from my leaders, and the traits I try to embody with my team. If the expectation is clear and communication is along the lines of an "open door policy," it's beneficial for everyone to work together toward the same goal and be successful.
What's a challenge you encountered this season?
Quite honestly, technology has been a little bit of a struggle. I continue to push us in the direction of embracing technology, and sometimes it's hard to get the buy-in across the board. But, if I can explain how this new approach or new tech will benefit those that are skeptical, it helps. For example, we looked at Covid as a way to test new technologies, specifically with the ability to forecast how busy we will be and how to plan for that.
What do you love about your job/mountain?
No day is the same. Initially, I would try to plan my day, give myself three major tasks that I needed to get done. And that was with the best of intentions. However, now, I don't necessarily set those rigid expectations because the season is a living and breathing thing. I come to work, ready for anything, and I love that. And also, I can go skiing or snowboarding. It's a great escape. That mental reset is so important, and it helps remind you why you're here.
We heard you're in the middle of a big project. Tell us about it.
Oh, it's really exciting. We're currently constructing a long-awaited, highly anticipated new lift. Like, this lift has been talked about for 20-plus years. It is only coming to fruition now, after a commitment with Doppelmayr, and to finally see this project come to life after such a long buildup, it's really exciting. I'm very happy to be a part of it. And if all goes according to plan, our new lift should be operational this winter.
What do you like to do for fun?
I'm a big outdoorsman. I love being outside. Whether I'm hunting, fishing, riding quads, or camping, I just love reconnecting with nature. Out of them all, I would say my favorite pastime is hunting. I just love the challenge of it, the pursuit, and the fulfillment. It really connects you to a primal history, and makes you feel small in the world. It makes you appreciate where it all came from.