Table of Contents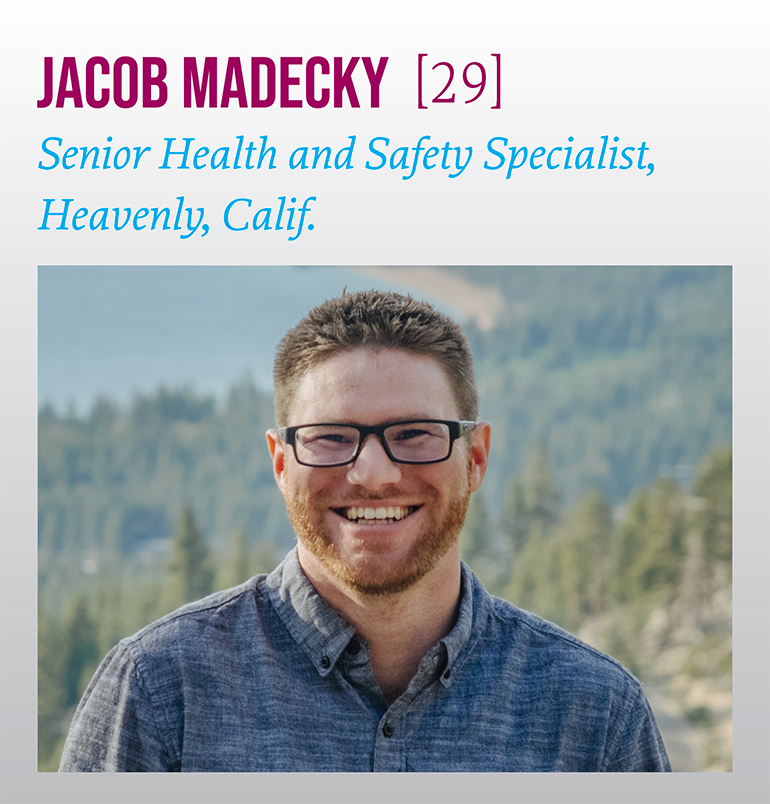 Jacob Madecky has been skiing since "before he could remember." The California native grew up sliding at Big Bear with his family, and then strengthened his passion for winter sports through his high school racing program while living in Wisconsin. Jake continued racing through college at Colorado State University while pursuing a degree in natural resources and tourism with a focus in ski area management. Now, back in his home state of California at Heavenly, Jake has worked his way up the ranks, wearing many hats in the patrol, safety, and management spaces.
What do you love about your job/mountain?
I love creating tools to empower people. I've worked on a couple of projects prior to my current role. One major project was the development and creation of a suite of training videos that helped our activities team greatly. This provided a baseline for the trainers and trainees, and it became a huge resource: more than 19 videos for every activity on the mountain. While in mountain safety, I created a dashboard that provides analytics that helps teams see where to focus efforts, where we can educate guests, enforce safety, etc.
What are your goals?
My ultimate goal is to become a general manager. I've learned that health and safety allows you to partner and work with every department, and my current role allows me to shadow lift maintenance, ski and ride school, F&B, etc. This has really helped me gain a better understanding of those different lines of business, and how safety is a factor and, at times, a challenge. Driving a successful safety culture allows for high efficiency ROI.
What developments have you stoked for the future of snowsports?
I spent three summers in the summer activities department. Truthfully, the entire summer side of ski resorts fascinates me. The future of ski resorts revolves around a sustainable workforce and operation. It takes time to convert a resort from winter to summer offerings, and some do it better than others based on terrain and operations. The more we can do to eliminate any kind of downtime to keep operational will be beneficial in keeping employees through the entire year versus seasonally. The struggle of being a season-to-season employee can be difficult to budget for in our mountain communities. I think the industry is on the right track, and I'm super excited to see the potential of summer activities at resorts come to life. For winter, the accessibility and the focus of diversifying the clientele we attract is also a huge opportunity for development and growth. We will all benefit if we better open up the ski industry to everyone.
What is on your bucket list?
I want to keep traveling and visit as many ski resorts as possible, summer or winter. Currently, I've visited 36 resorts in total. I've been to and worked at Perisher in Australia, but I would really like to visit and ski Japan. Canada is also up there on the list, with an eventual stop in Europe down the line.