Table of Contents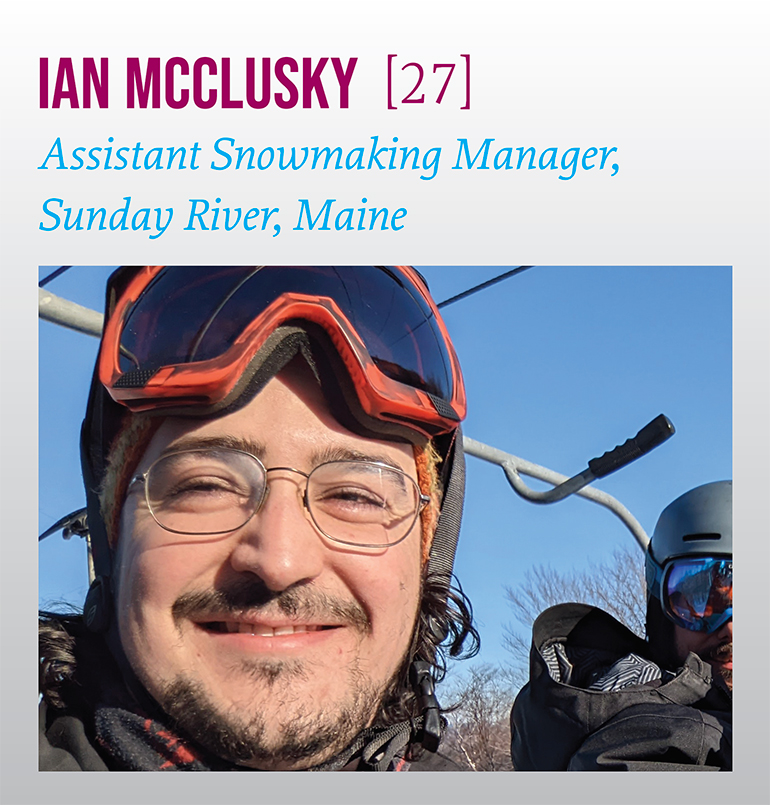 Ian McClusky lets his passion be his guide. This self-proclaimed ski bum first stepped into a pair of skis when he was seven years old, and immediately grew fascinated with the science and process of snowmaking. With a background in farming and a love for the outdoors, Ian cut his teeth at Sunday River in Maine, where he and his team have shared great experiences making and improving the product skiers and riders come to enjoy each season.
Who are you? How did you get into the industry? Why do you stay?
I grew up skiing at Pats Peak in New Hampshire with a few bigger trips to Sunday River. I had always heard great things about their snow and the mountain, so I was intrigued. I had a natural interest in snowmaking. I kept thinking, "How does this all work? How do they do it?" When I had the opportunity, I applied for a night shift and everything clicked from there. Everyone on the team has a big passion for snowmaking and the product you're putting out there.
Describe a challenge you encountered this season and how you overcame it.
This past season went pretty smooth, honestly. We did a lot of snowmaking upgrades last summer, which set us up nicely this past winter season; we can make a lot more snow with upgrades, more trails open faster with better snow quality. We also have a good-sized crew, so that, plus the equipment upgrades, made everything run smooth and more intuitive.
What was your most memorable working moment this season?
A few memorable moments come to mind. First, I would say firing up our brand-new equipment for the first time. It came with a learning curve for sure, but once we got familiar, it was smooth sailing and very rewarding to see it in action.
And this one night, I'll never forget, we were out on the hill overnight making snow and found ourselves in the middle of a thunderstorm. You're surrounded by darkness and suddenly, the entire sky and mountain lights up from a lightning strike. My buddy thought I was messing with him with my head lamp. It was pretty cool.
What's the best professional advice you've ever gotten?
Best thing—don't be scared to jump into it. Surround yourself with people with similar passions. And great teamwork is very important. A coordinated effort helps put a process to the madness.
What's one item on your bucket list?
Disappear to Alaska! I'd like to get back into farming. I used to be in vegetable farming, and it taught me a lot. Specifically, how to run a crew, and be passionate about what you're doing. There's nothing more telling than farming; if you're not doing your job properly, it shows.
What do you like to do for fun when you're not at the mountain?
Fishing, camping, and kayaking.