Table of Contents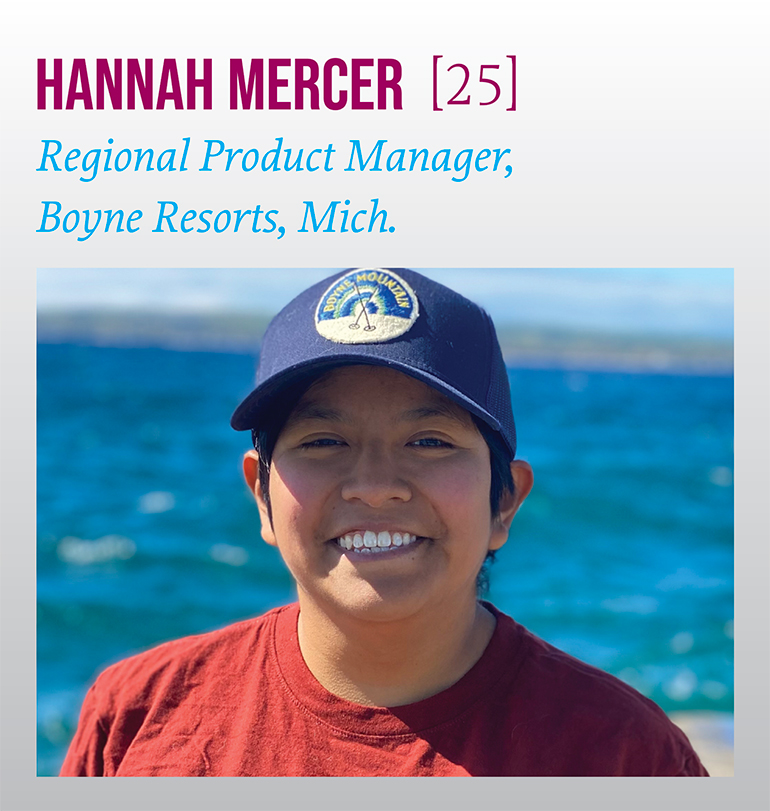 Hannah Mercer is a problem solver who, having never skied or snowboarded before, never thought she'd wind up in the ski business. Hannah was adopted in Bolivia, grew up overseas by way of Kenya and Indonesia, and eventually traveled back stateside to her father's home state of Michigan. There, she thought she'd take a seasonal job to bridge the gap between school and career. And like many of us that "came for just one season," Hannah discovered a love and passion for the outdoors, technology, and a resort family that she continues to call home.
What do you love about your job/mountain?
Boyne focuses on long term goals, and they've become more transparent with those goals. For us, it helps to keep the fire burning when we know what we're working toward, and why we're working toward it. And as far as individual professional development, they'll support you if you want to pursue something. It's also great to see that most of the staff recreates at the place they work; I think it says a lot. Everyone is always friendly, always welcoming.
It's a huge community, and it's really easy to want to be here, both on and off the clock. I love the people I work with and the ski community. It's something I never thought I'd be immersed in as I never skied or snowboarded until I got my job, and I probably never would've if I didn't come here. It's a really good time.
What's a hot topic in your department right now?
Technology is definitely top of mind these days. I love puzzles, and my team quickly noticed that about me, so they presented me with different opportunities to streamline our online offerings. And when Covid hit, we kind of had to rip the band aid off rather quickly when it came to moving everything online. And now, I'm really excited to dive deeper into using these tools for e-commerce to the fullest extent. I'm always asking questions like, "What are customers having the most difficulty with? How can we make it better?" We're really leaning into the development side of things, and making the overall experience better for the guest.
What leadership traits do you admire?
Support, both on a professional and personal level. Boyne Resorts invests in people and it's awesome to see. For a little while, I was homeless in the ski town, and Boyne really stepped up. They set me up with employee housing, despite my having a dog. They were very accommodating and helpful. I've also tried to do that as well, to show a lot of appreciation to a lot of people.
What do you think is the industry's biggest opportunity for growth?
I think we have a lot of opportunity for growth in tech and sustainability. In some ways, they go hand in hand: better tech could lead to better sustainability. There's a lot I think we need to be more conscious about. I've noticed many resort companies coming together over the last few years to do more to improve sustainability, and that is important to me. I also think the tech is going to get better for smaller resorts. Our guests want to jump from experience to experience without hassle, and I think technology will eventually build upon and improve the guest experience. If we're able to make our systems more cohesive, we're making the experience better for our guest.