Table of Contents


1. Opening Day Park
The Rock Snowpark, Wis.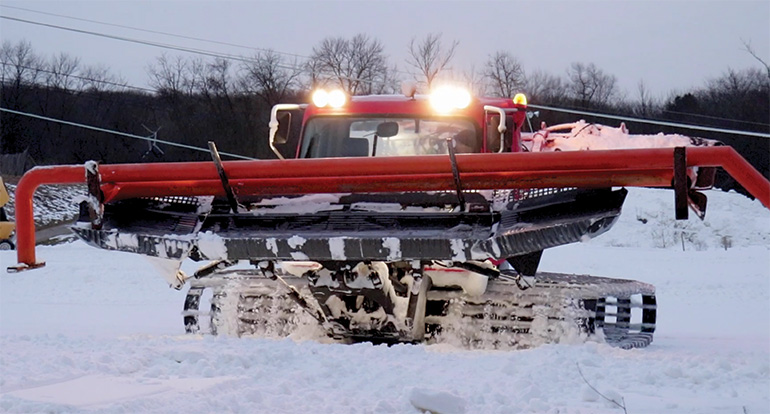 "Early season in the Midwest is special," says The Rock Snowpark mountain ops manager Ryan Ruffing. Everyone is eager to get out on snow, and it doesn't need to be huge jump lines or elaborate rail gardens—just about anything will do. Relatively new ownership (as of 2017) and a new mountain ops and park crew made last year's prep for opening at The Rock an exciting time. The team took to the hill on Nov. 21 to get a park ready for a Nov. 23 opening. In two days, with Ruffing pushing snow in a snowcat and marketing director Riley May, park crew Rayce Ruffing, and Danny Sokol—along with a few local riders—working the ground, they set two 20-foot round bars, two 10-foot boxes, a rainbow box, down-flat-down bar, and even built a 15-foot jump. When the tow-rope started spinning, the stoke was high among the crowd of locals who came together to enjoy it.
2. The Three Pack
Boston Mills | Brandywine, Ohio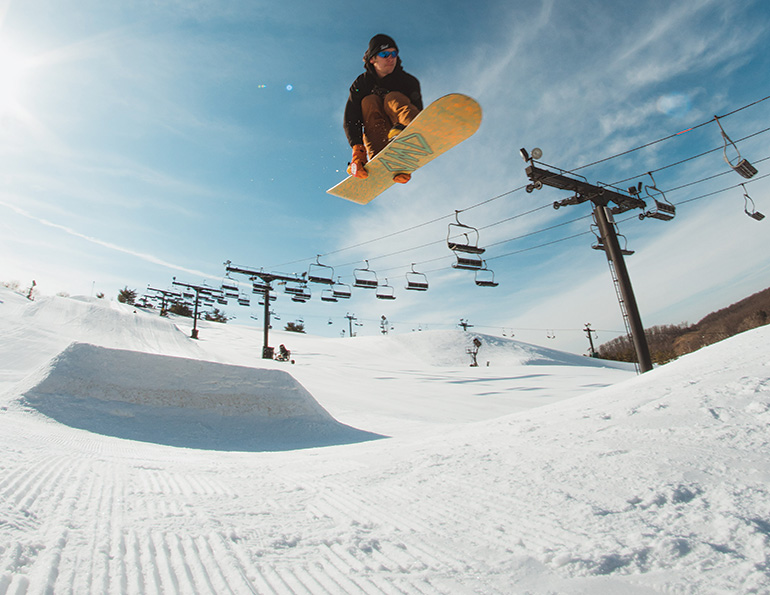 Many of the guests who visit Boston Mills and Brandywine spend at least some time in the park, so the parks have become a focus of operations. Builds are geared toward skiers and riders of all abilities. The early-season snowmaking push at Brandywine uses every snow gun in the terrain park to build the park's most popular features: a line of three jumps that stays in place all season long. The jumps progress in size from about 15 feet to 35 feet. The mountain ops team and park crew work together to push and shape the jumps, which takes 12 to16 hours to complete. Up to two cat operators using PRINOTH Bison X and PistenBully 600 cats do the heavy lifting, and about four park crew members do the fine tuning daily, utilizing digital levels, measuring tape, rakes, and shovels.
3. Black Mamba
Mount Snow, Vt.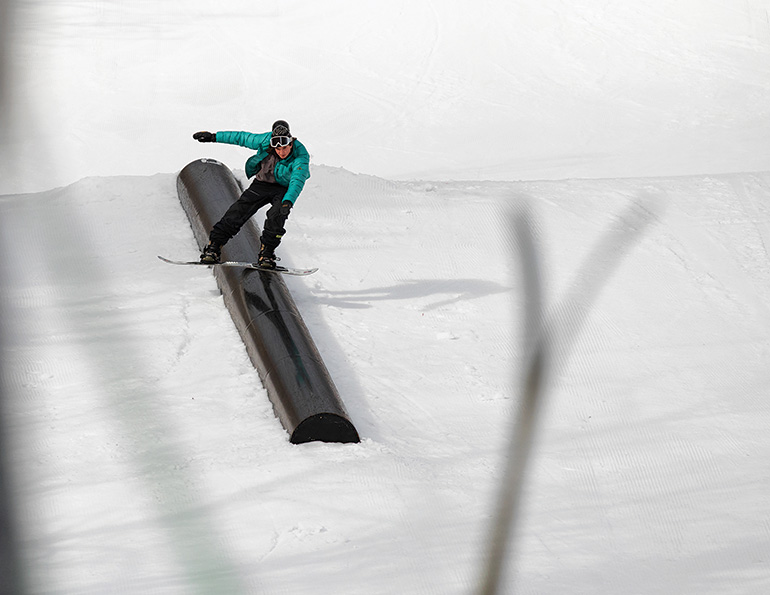 The Black Mamba, 36 feet long and made from an old lift tower, is easily one of Carinthia's most popular features. It has been a part of the Carinthia rail fleet for more than 10 years, and many skiers and riders expect to see it from opening day until the park closes sometime in April. While it might look intimidating when it's off the snow, the setup makes it a welcoming feature for all abilities. Set on a slight downward pitch, with a wide set-back lip and rounded edges down the length, this feature is primed for learning new tricks. It took cat operator Rob Black about two hours to get the area prepared and the Mamba set on snow, and two diggers spent another two hours on raking and finish work.
4. The Fat Boxes
Mt. Hood Meadows, Ore.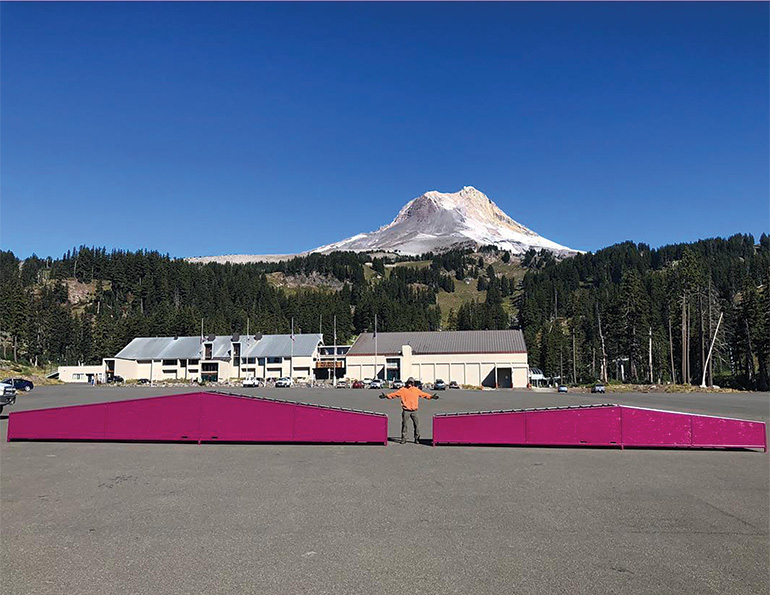 These features are two of four large dancefloor-style boxes that the Meadows crew built to aid guests in progression. The up-down box is 16 feet up and 16 feet down, and the flat down is 12 feet of flat and 16 feet down. Lengthwise, they're bigger features than many beginner park goers would think to try. But at four feet wide, they invite those new to jibbing and serve a broad range of abilities. Park crew members John Ogletree and Jared Scholz fabricated the Fat Box frames in-house from 2" X 2" stock with half-inch plywood skirting. The sliding surface is half-inch HDPE plastic with two-inch round bar coping. Each was built with fork holes so they can be safely and easily transported among Meadows' various parks with a fork cat.
5. Weird Wall
Summit at Snoqualmie, Wash.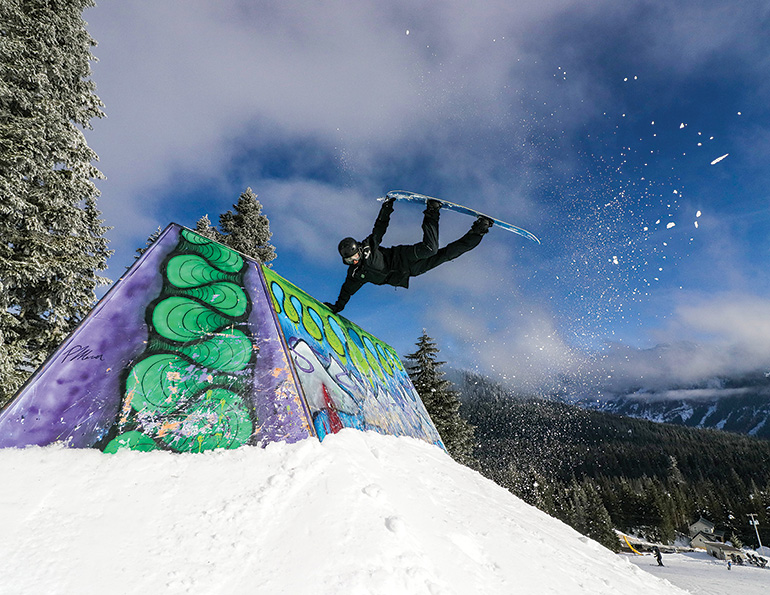 As wall rides go, this one is a little different. The big 10' X 7' main panel looks like a typical wall ride. The two 7' X 5' side panels add more options. And the 18-foot creeper rail (not pictured) on the back of the wall completes this weird—as in, good—package. Not wanting to leave weird enough alone, the parks crew asked artist and Lib Tech rider Phil Hansen to use the feature's large plywood panels as a canvas. Hansen spent two days pre-season with a box of rattle cans and painted a jib-able piece of art for guests to enjoy. It was one of the first large features to be set in the park and, despite its size, was a popular spot for riders to progress their skills and get higher up the wall as the season went along.
6. Dice Roll
Hunter Mountain, N.Y.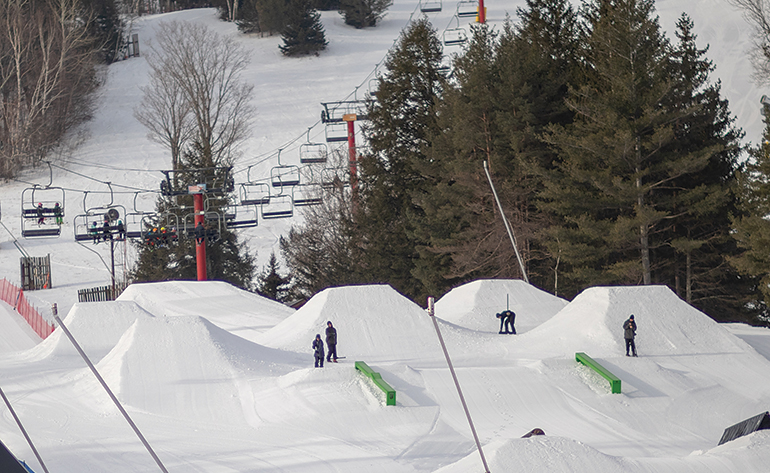 This past year, the Empire Park staff took a new approach to the skatepark-inspired Kaatskillz Pro-Am event, and it led to what became a park staple: a set of five square tabletops. The tabletops were laid out with one tabletop in each corner and a central one, similar to the number five on a set of dice. This created a variety of transitional approaches for skiers and riders of all levels. More advanced skiers and riders could approach head-on, catching the most air, while others chose to ride them as spines, side-hits, or re-directs. The layout of the tabletops created a similar back and forth feel to a bowl you would see in a skatepark. Park crews plan to take the lessons learned from these features and incorporate them into future builds.
7. Thredbo Snow Series 2019
Thredbo, Australia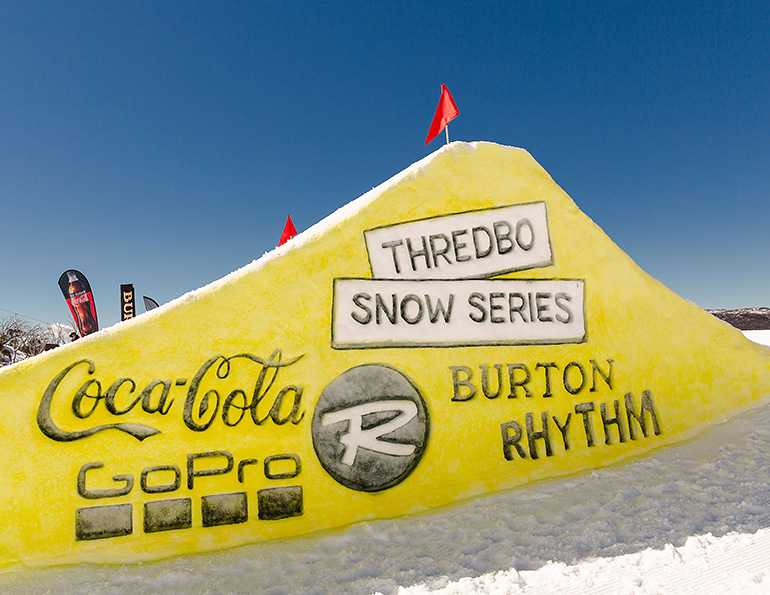 A total of more than 500 skiers and riders competed in the five-event Thredbo Snow Series, each event a different discipline: rail jam, ridercross, freeride, slopestyle, and big air. The series has categories for all abilities and ages, including junior (17 and under) and grom (12 and under) age categories. The freeride venue is an off-piste trail filled with rocks and drops, no build required. The rail jam build took two cats five hours and five park crewmembers a whole day to set a donkey tube, A-frame, flat-down tube, and fly-out tube. Slopestyle used an existing three-pack of jumps, plus multi-rail features at the top and the bottom of the course that took a half-day for two cats and three park crew to set. The ridercross course took one cat operator 15 hours to build, and the park crew spent a few hours polishing the "Wu-Tang" feature at the start. The big air comp used an existing 45-foot kicker.1. 8.