About 400 ski area and supplier members attended the 2016 Midwest Ski Areas Association Annual Meeting and Trade Show, Aug. 21-24, at Shanty Creek Resorts in northern Michigan. The event addressed a wide range of issues, from beginner trial and conversion to leadership succession, lift maintenance and safety.
At the Sunday evening reception there were smiles aplenty and a shared optimism about the winter ahead. Some told tales of the previous season, now able to shake their heads and laugh about the challenges Mother Nature presented.
On Monday morning, NSAA president Michael Berry reminded the crowd that last season wasn't the industry's worst ever, and historically guests come back in droves following a poor snow season. He also reiterated recent themes, including the aging of resort leadership and the importance of embracing the Millennial generation. In light of recent lift incidents, Berry called the industry's aging lift infrastructure a "big, big issue."
In addition, with the average number of first-timers trying the sport in steady decline over the past few seasons, Berry implored Midwest operators to focus efforts on attracting newbies. He said no other region is as good at introducing skiing and snowboarding to people, and the overall product they offer has never been better.
At Monday evening's dinner and awards presentation, Crystal Mountain, Mich., president and CEO Jim MacInnes was honored with the Jim VanderKelen Lifetime Achievement Award, presented by SMI president Joe VanderKelen.
Tuesday's keynote speaker, Sen. Chip Perfect, owner of Perfect North Slopes, Ind., delivered an energetic presentation with the theme "Being the Best You." Like Berry, he also spoke about the importance of embracing the Millennial generation.
The event's reputation for offering a comprehensive program of educational sessions held true. From Monday morning through Wednesday afternoon the schedule was packed, including the four-part NSAA Fall Education Seminars that focused on critical risk management issues.
The industry's aging lift infrastructure was a hot topic. Recent lift failures and updates to the ANSI B77 standard were discussed in several sessions. The overarching message from the expert presenters: proper maintenance is by far the best way to avoid a lift failure.
RRC's Rob Linde presented the latest findings from the "Beginner Conversion Dashboard" to a packed room of engaged resort leaders. He said operators "have to address reality" and focus on attracting newcomers, something he said, "the Midwest does better than anybody." Representation of that proficiency is somewhat limited in the study, though, since only 200 of the 17,000 respondents to the survey came from the Midwest.
Other sessions covered everything from sustainable snowmaking and e-commerce to snow tubing and "Your Rental Shop's Role in New Skier Retention." SAM's own senior editor Dave Meeker led a session on media relations.
MSAA executive director Amy Reents summed it well: "Our industry is full of talented and dedicated people that continue to focus on making the ski and snowboard experience better every year!"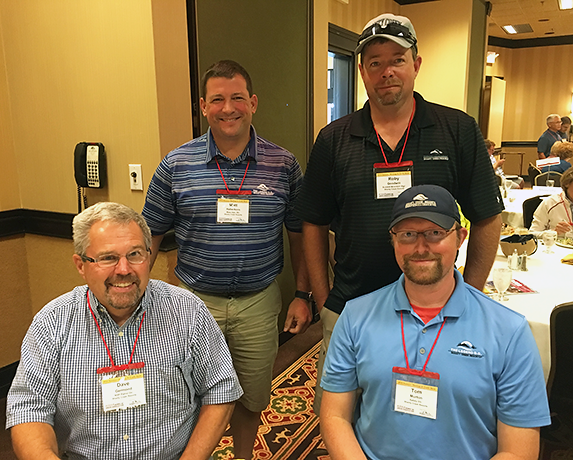 A few members of the host resort's team, Shanty Creek's own (L to R) Dave Germond, Matt Haberkorn, Roby Goodwin, and Tom Murton.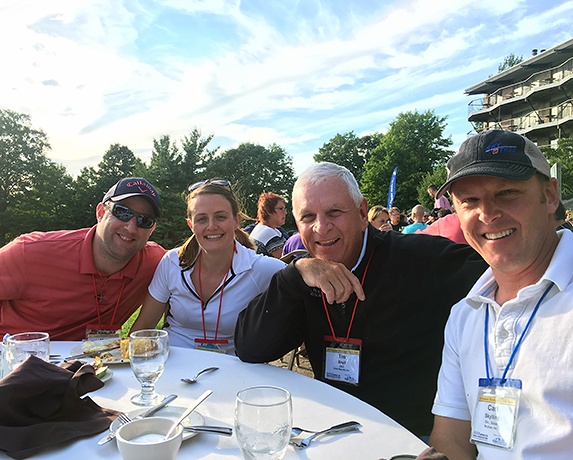 Beautiful evening for a BBQ. (L to R): Matt and Lauren Grenier from Paoli Peaks, Ind.; Peak Resorts CEO Tim Boyd; Carl Skylling with Skytrac.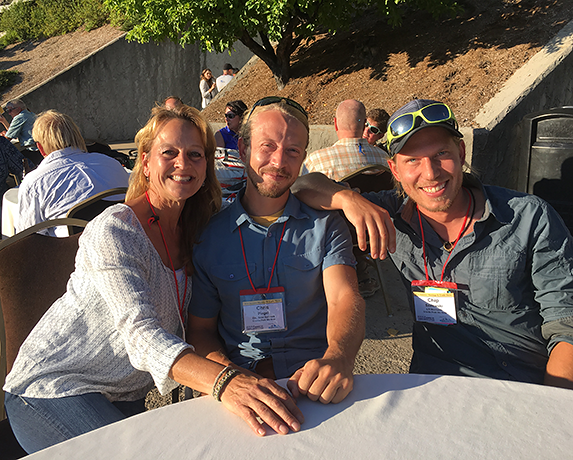 The team from Granite Peak Ski Area, Wisc., enjoying the evening sun. (L to R) Vicki Baumann, Chris Pingel, Chip Szalewski.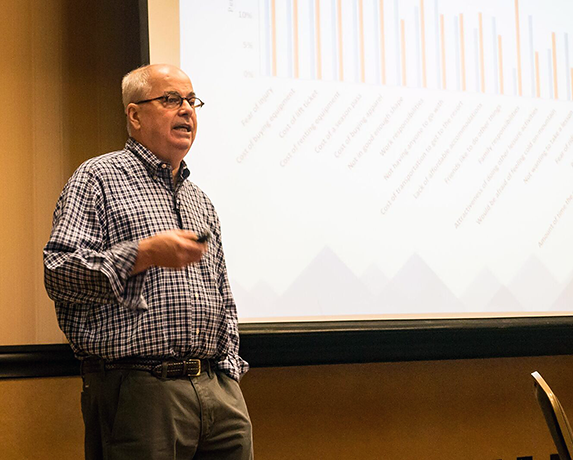 NSAA president Michael Berry delivering his keynote speech. (photo credit: Dave Gibson, Propeller Media Works)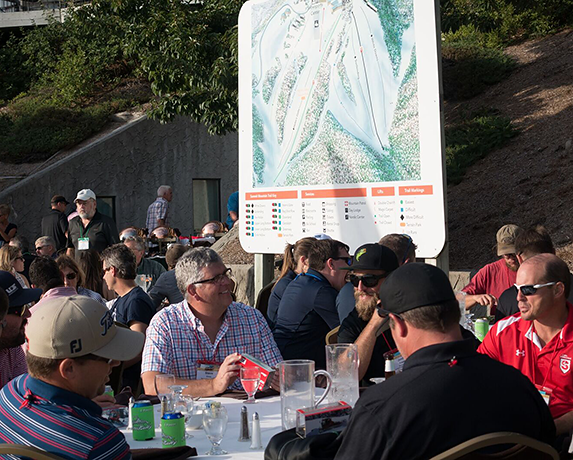 Beautiful weather at Shanty Creek allowed for most meals to be enjoyed outdoors. (photo credit: Dave Gibson, Propeller Media Works)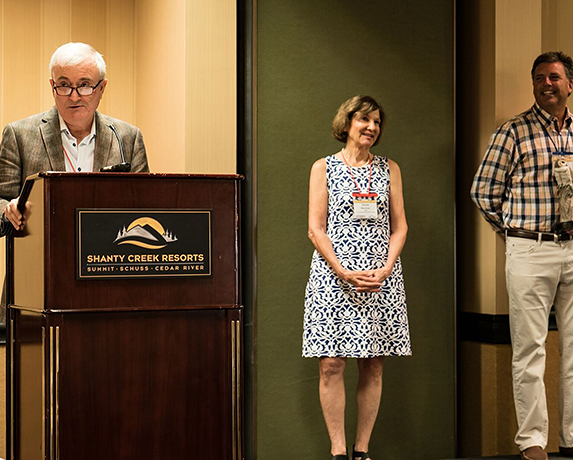 Crystal Mountain, Mich., CEO Jim MacInnes (at podium) was honored with the Jim VanderKelen Lifetime Achievement Award. Jim's wife, Crystal COO Chris MacInnes (center) and SMI president Joe VanderKelen join him on stage. (photo credit: Dave Gibson, Propeller Media Works)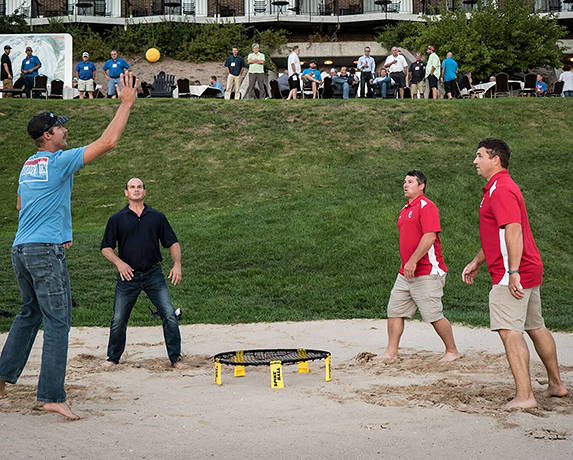 Plenty of fun was had during the evening cocktail events. (photo credit: Dave Gibson, Propeller Media Works)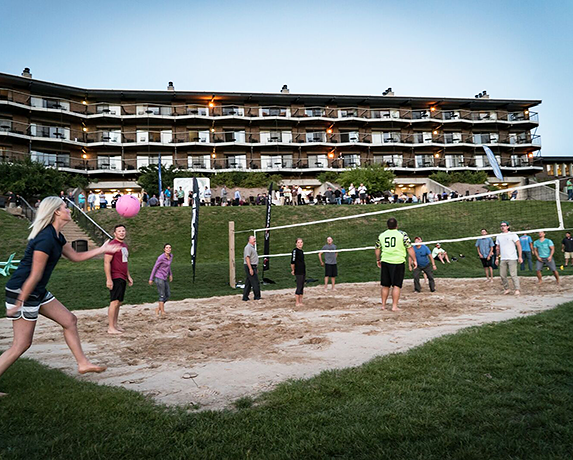 Beach volleyball got intense with games going past dark.(photo credit: Dave Gibson, Propeller Media Works)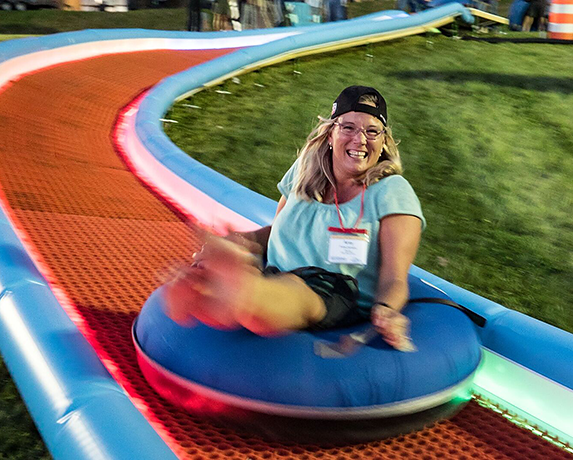 Summer tubing on the mSnow artificial surface was a blast with riders reaching speeds up to 21 mph. (photo credit: Dave Gibson, Propeller Media Works)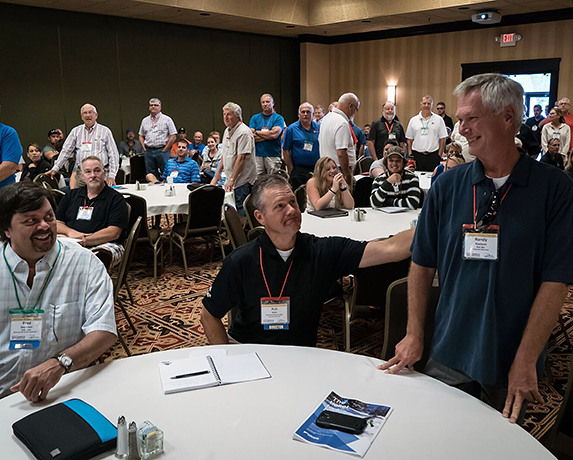 Keynote speaker Chip Perfect started his presentation with a game to see how many years of ski industry experience was in the room. These guys (those standing) have more experience than anyone. (photo credit: Dave Gibson, Propeller Media Works)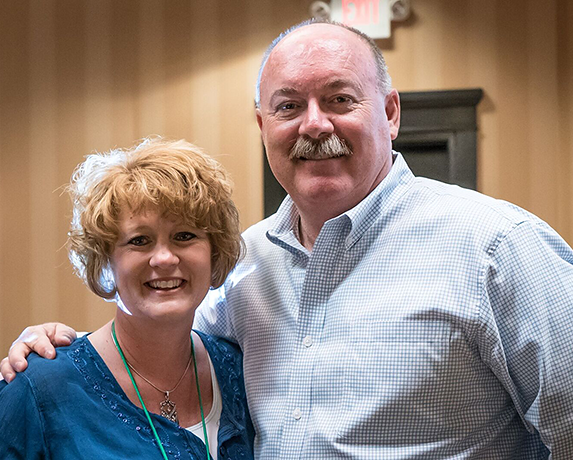 MSAA executive director Amy Reents with Chip Perfect from Perfect North Slopes. (photo credit: Dave Gibson, Propeller Media Works)