You can tell that winter is right around the corner when ski industry operators and suppliers gather at the annual New England Summit. This year's event attracted nearly 420 ski industry personnel, exhibitors, and speakers at Sunday River in Newry, Maine, Sept. 13-15.
After an address by NSAA president Michael Berry, Tuesday afternoon was filled with opening-day sessions that covered a wide variety of topics. Jack Turner moderated a panel of ski area senior managers in a session called "Tribal Loyalty – Tribal Warfare" to discuss how resorts can make newcomers feel like insiders. Ski and snowboard expo czar Bernie Weichsel led a session on how resorts can get the most out of their presence at ski shows.
The Tuesday evening trade show was a lively gathering with a host of fresh ski area personnel and suppliers. The networking gears were working overtime as the evening progressed.
From start to finish, Wednesday was chock-full of educational opportunities, networking events, and casual social gatherings. Attendees learned about marketing, PR, snowmaking data, grooming technology, risk management, and how to make more revenue while going green.
The closing night party was held at Camp, Sunday River's newest restaurant, located inside the Grand Summit Hotel. Outside the hotel, HKD presented the Sunday River snowmaking team with a plaque to commemorate their triumph in this year's "I Am a Snowmaker" competition. The team also got a shiny new Weber grill to enhance their break room, courtesy of HKD. Following the presentation, Atlas Fireworks put on a stellar display for the gathered onlookers.
The event closed out at lunchtime on Thursday after several morning sessions. At the ADA website compliance session led by Propeller Media Works' Dave Gibson and NSAA's Dave Byrd, Byrd implored the audience to get their sites up to at least the minimum standard. Despite the cost of remediation, "it cannot be ignored" and "it's ultimately going to hit you," he said. Representatives from two resorts that have been served with demand letters were on hand to reinforce that point.
A big thank you goes out to the event organizer, Ski Maine's events and program director Bo Bigelow, and the staff at Sunday River for putting together a quality event with no shortage of donuts.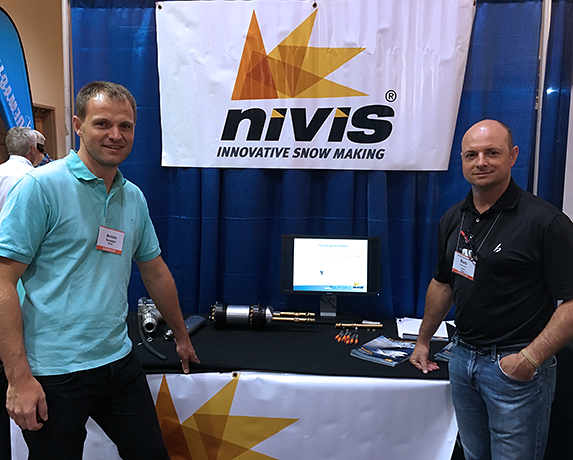 Armin Spoegler came all the way from Italy to join Rob Donovan at the trade show and help familiarize attendees about Nivis snow guns.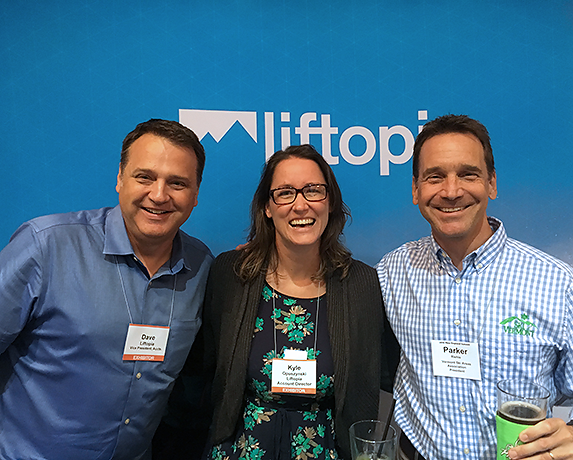 Kyle Opuszynski bookended by her new boss, Liftopia's Dave Madden, and her old boss, Ski Vermont president Parker Riehle.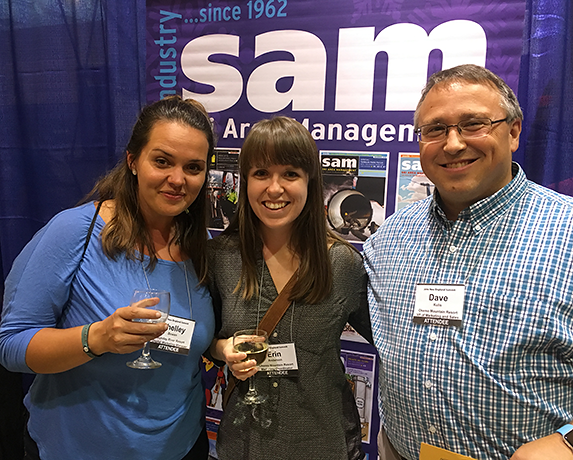 Taking a break from talking about how much they love SAM (L to R): Shelley Bowen from Sunday River; Okemo's Erin Anderson and Dave Kulis.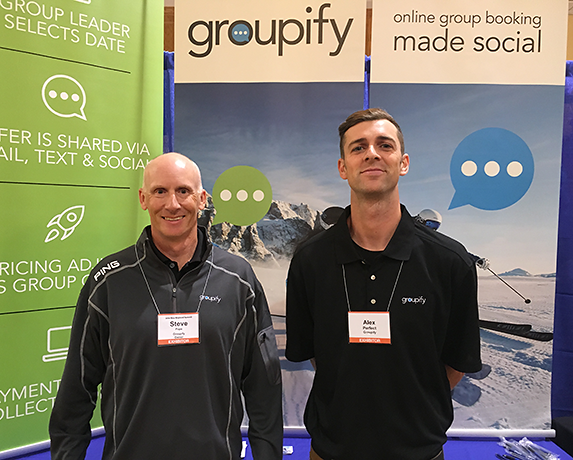 Steve Pope and Alex Perfect repping Groupify.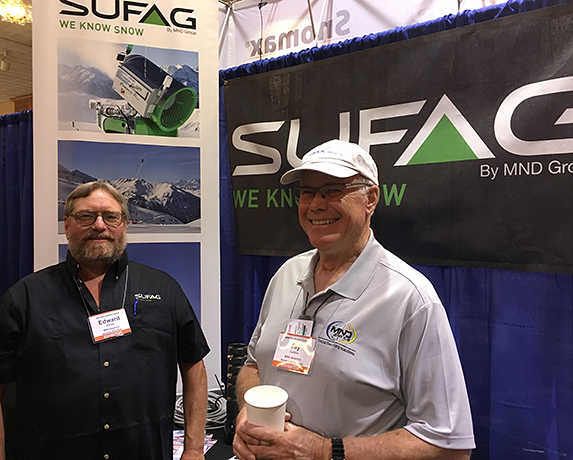 MND America's Ed Dietzel and Jay Collins sharing snowmaking knowledge at the tradeshow.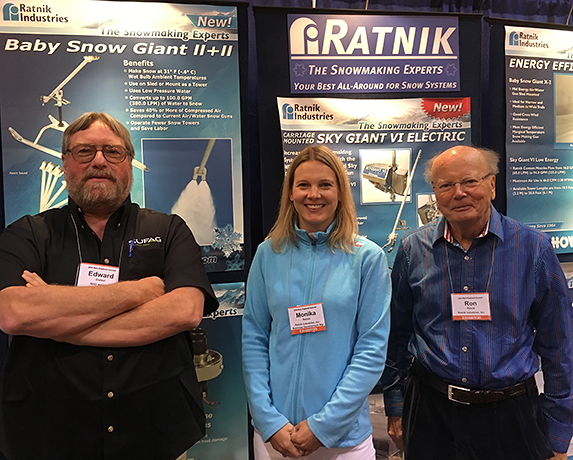 They have snow much in common (L to R): MND America's Ed Dietzel talking snowmaking tech with Monika and Ron Ratnik.
Dennis Kinsella and Craig Raphaelson from Demac Lenko were on-brand at the trade show.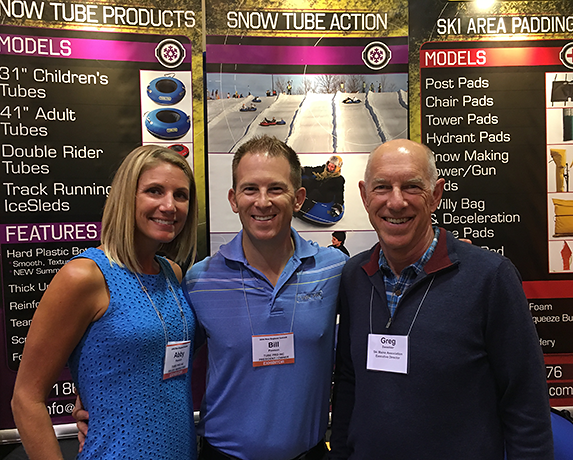 Tube Pro's Abby and Bill Pawson catching up with Ski Maine executive director Greg Sweetser.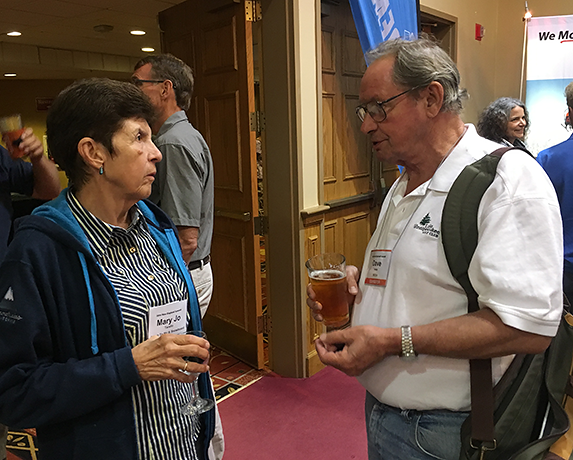 The lady behind Learn to Ski and Snowboard Month, Mary Jo Tarallo, getting the lowdown on Maine skiing from writer Dave Irons.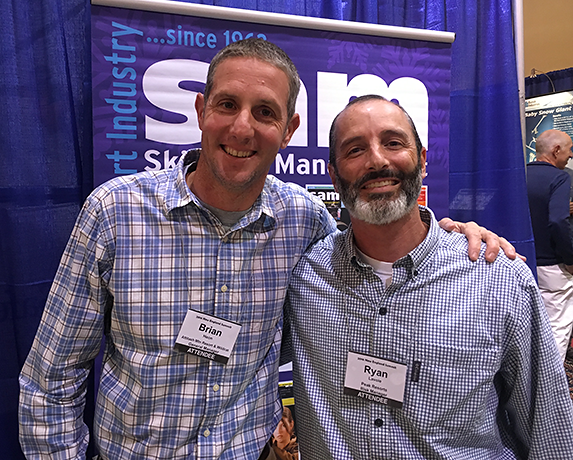 Wildcat GM Brian Heon gets cozy with Ryan Lavoie, Peak Resorts risk manager.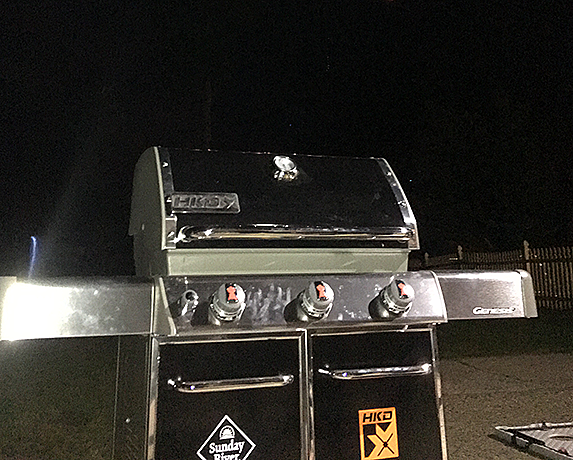 The Sunday River snowmaking team won this year's HKD I Am a Snowmaker contest and was awarded this pretty sweet grill.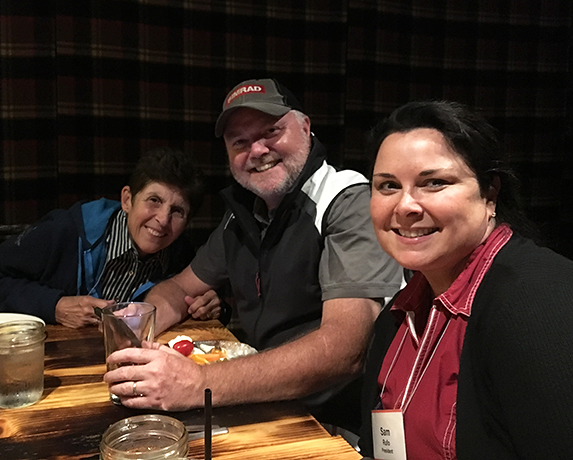 LSSM head Mary Jo Tarallo sharing some laughs (and good food) with nxtConcepts' Stew Jensen and Sam Rufo.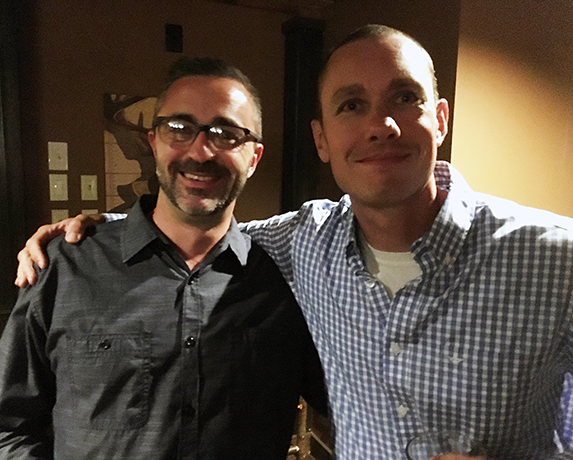 Event organizer Bo Bigelow from Ski Maine enjoys a frosty beverage with Sunday River's Steve Dacko.