Nearly 450 resort staff, industry partners, and exhibitors attended the 2018 New England Summit Sept. 11-12 at Sunday River Resort, Maine.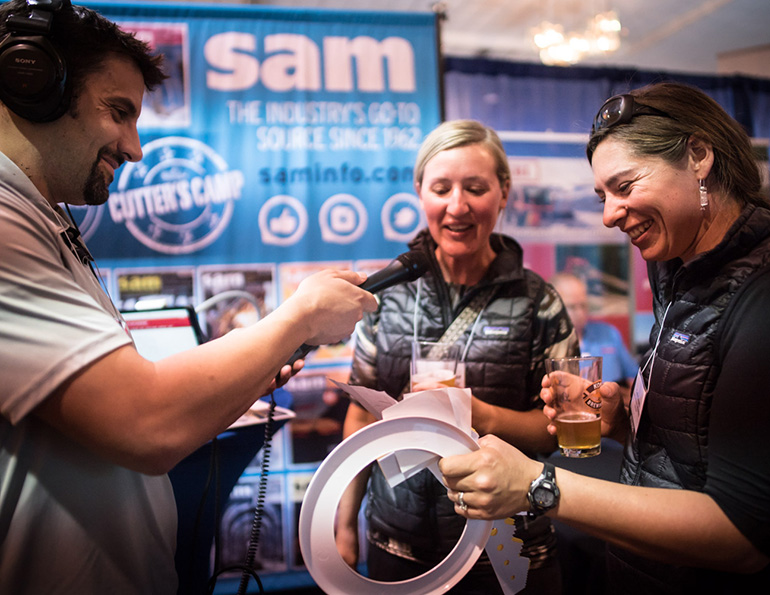 Wintry Mix's Alex Kaufman helps us develop PodSAM at NES (Photo courtesy of Dave Gibson)
The event kicked off with seminars on topics ranging from web trends to climate change and ended with multiple sessions on lifts and snowmaking, including a presentation by HKD on stages of automation. HKD also took the opportunity to announce the return of the I Am a Snowmaker contest in conjunction with SAM,which kicked off Sept. 17th.

The keynote "state of industry" address was delivered by NSAA President Kelly Pawlak on Tuesday evening. Pawlak reiterated the importance of technology, participation in NSAA programming, and succession planning as keys to the growth of the industry. She gave a friendly nod to SAM, quoting Blaise Carrig's technology quip from our Summit Series roundtable: "We still have people going to ticket windows—nobody goes to the airport to buy an airplane ticket."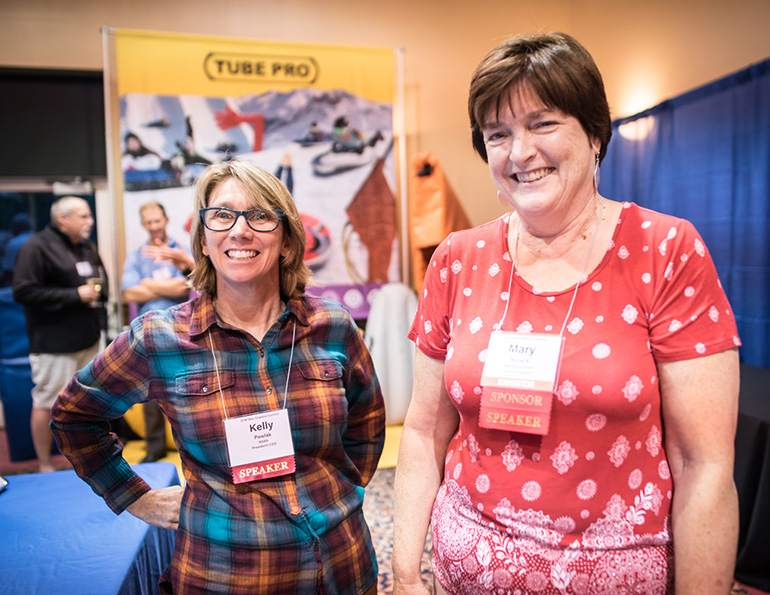 NSAA President Kelly Pawlack and MountainGuard's Mary Bozack
(Photo courtesy of Dave Gibson)
Seminars at the annual show followed some of Kelly's key points, with presentations on new technologies to streamline e-commerce and staff education and track maintenance, and seminars featuring some of NSAA's key initiatives. Tuesday opened with a sessions on NSAA's end-of-year survey, the Kottke Report, and Wednesday opened with a session led by Mary Jo Tarallo and Sam Rufo on how to leverage the PR tools provided by Learn to Ski and Snowboard Month, with guest speaker, SAM's Sarah Wojcik. Other sessions touched on risk management, governmental affairs, marketing, and summer business.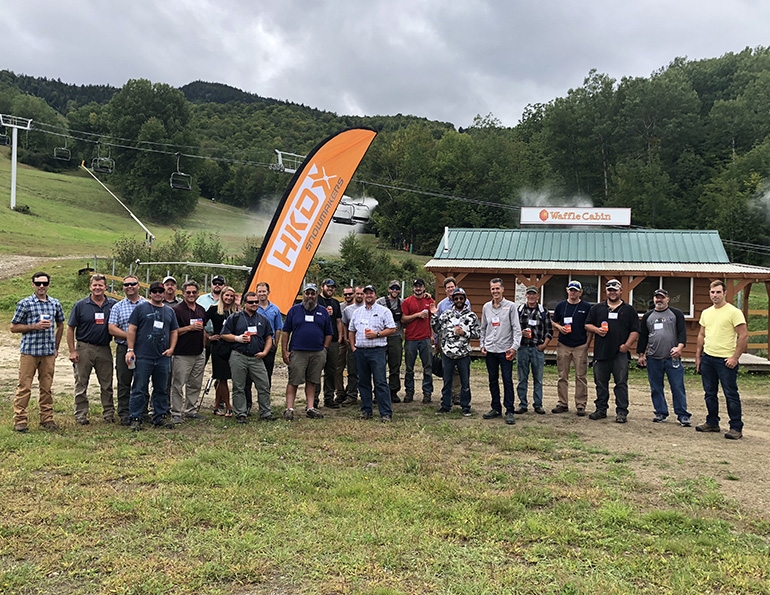 HKD shows off the new automated snow guns at Sunday River
SAM Magazine staff took the opportunity to begin their expansion of PodSAM at NES with the guidance of Wintry Mix's Alex Kaufman. Stay tuned for updates from your industry friends, and interviews with both resort and supplier bigwigs.
The annual event ended with a bang, as Atlas Pyrotechnics set the night alight with fireworks on Wednesday as industry colleagues mingled and looked toward the upcoming winter season.
For more photos visit our Facebook page.