SAM Magazine—San Diego, Cali., May 6, 2019 - More than 950 members of the winter resort industry descended on the Hilton Bayfront Hotel in San Diego, Calif., April 29–May 2 for the NSAA National Convention and Tradeshow. It was the most highly attended national convention since 2008. Conventioneers reveled in the aftermath of the fourth-greatest season for visits ever, and focused on prevailing issues such as growth, climate, staffing ,and all the other nitty-gritty aspects of resort management.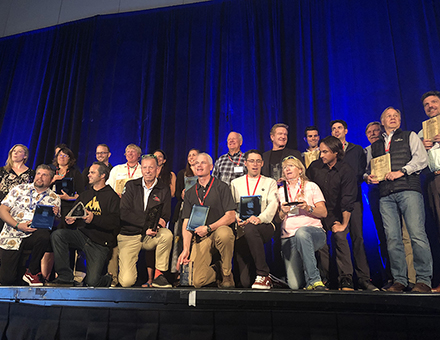 The opening keynote speaker, Daniel Burrus, suggested a variety of ways to accelerate growth, including "go hire a kid," i.e., seek out those in the younger generation to inject innovation and new ideas. He also urged leaders to evaluate what they do and stop doing what doesn't move the needle in their business.

For many, the State of the Industry panel moderated by Win Smith of Sugarbush on May 1 was a highlight. Smith posed tough questions to Pat Campbell, Vail Resorts; Rusty Gregory, Alterra; Joe Hession, SNOW Operating; and Wade Martin, Powdr. The panel discussed multi-area passes, the high cost of same-day ticket purchases, staffing challenges, and a range of other hot topics.
The panelists were all quite candid throughout the discussion. Gregory admitted that as a young company Alterra is "building the airplane as we're flying it," but is happy with the way things are moving along. Campbell said climate and staffing were the hottest topics she noticed at the convention. Martin said this season was a wakeup call, and showed there is still high demand for skiing and riding—but meeting guest expectations, especially from a technology standpoint, was a challenge. Hession shared how technology has transformed the way Mountain Creek, N.J., operates, but admitted the transformation hasn't been easy, especially for staff.
On the topic of growth, sessions ranged from increasing diversity and inclusion efforts to introducing newcomers to snow sliding in their local and urban environments. RRC's Dave Belin outlined several trends gleaned from NSAA's research. He also suggested actions resorts can take to reach the NSAA goal of 10.5 million active participants and 60 million visits, in an average year, by 2025-26.
Sessions addressed staffing from a number of angles. Human resources specialist Laura Moriarty led two sessions that served as wakeup calls to the audience—one about unconscious bias in the workplace, and another about staff compensation. Housing and the ever-present risk management issues were also covered in other sessions.
Climate change and sustainability were the focus of several sessions, from a big-picture look at decarbonizing the electric grid and Vail Resorts' all-encompassing Commitment to Zero carbon footprint to greening the supply chain (a lightly attended yet brightly illuminating seminar). In a session titled "The Summer Opportunity," a panel of operators from Bogus Basin, Mammoth Mountain, Blue Mountain, and Camelback talked about what they are doing to grow their summer revenues. They shared their successes and the challenges they've experienced along the way.
Among the practical sessions were those on technology, digital marketing, parking—a particularly vexing issue in a season of big snow and big crowds—and F&B. A standing-room-only marketing session moderated by Inntopia's Gregg Blanchard with panelists Dave Amirault, Snowbird; Alex Moser, Seven Springs; and Matt Peterson, Boreal, offered several takeaways.
The convention's proximity to San Diego's Gaslamp District meant that conventioneers had no lack of evening entertainment and diversions.
In the awards department, both Bob Bonar of Snowbird and Blaise Carrig of Vail Resorts received Lifetime Achievement awards. Current achievers Dawn Boulware, Taos; Geoff Buchheister, Vail Resorts; Simon Pagé, les Sommets; and Hugh Reynolds, SNOW Operating earned SAMMY Leadership awards. The several Golden Eagle Awards, Safety Awards, and Marketing Awards would fill their own articles.
Photography provided by SAM team member and Propeller Media Works' Dave Gibson.