By Dave Zook

The California mountain resort industry gathered in Squaw Valley for the Lift Maintenance and Operations Education Conference (LMOE) for the second year running on June 4-6, 2019. The underlying theme of the content-rich conference was working together to create a safer, better industry. Topic areas were addressed through three days of presentations, breakout sessions, keynote speeches, hands-on demos, on-mountain tours, and more.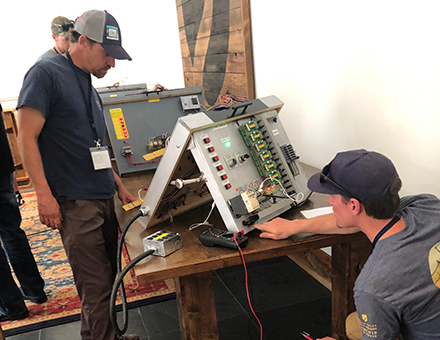 VIew more photos on Facebook.

Second-year tweaks made by Ski California president Michael Reitzell included longer classes (90 minutes rather than 60) and more classes (50, up from 33). Attendance was 327 personnel, similar to 2018.

At the opening session, Ron Cohen, the new president and COO of Squaw Valley/Alpine Meadows, underscored the importance of safety, noting that California sees 7 million skier visits per year. At an estimated 10 chair rides per visit, that makes for 70 million chair rides annually.

Following Cohen came a powerful story—both for what is at stake and the importance of forward thinking. The presentation was led by Mark Henderson and Helen Chew, who lost their 7-year-old-son in a chairlift fall in 2011 at Sugar Bowl in Lake Tahoe.

Rather than pursuing litigation, the parents became (and still are) closely involved in improving chairlift safety for the entire industry, and working with Sugar Bowl specifically.

"The theme of the accident was no one knew what exactly happened. Also, a theme we pursued was working toward something good versus placing blame and focusing on fault," Chew said. "We shared in the loss with Sugar Bowl, and we shared the responsibility to improve with them as well."

Smooth Flow to the Schedule

The rest of the schedule was given over to the educational sessions. Topics were far-reaching and informative; some were geared toward veterans of the industry, and others toward younger, newer employees.

The engineering and technical side was covered in classes such as The Essentials of Lift Physics, Sheave Assembly Loads for Tower Rigging, and Brake Torque Testing. Risk management issues were addressed in classes such as Using Lift Surveillance to Advance Safety, From Investigation to the Courtroom, and The Future of Chairlift Safety in California. Other topics included welding, training a new workforce, and conveyor lift issues.

Deep Dives

In a class analyzing three serious employee accidents stemming from lifts—two catastrophic and one fatal—the presenters took a hard look into how OSHA processes accidents, and the best practices a resort can take. An overall message is that OSHA wants to see corrective action taken after an accident. This does not have to be a drastic, sweeping change, but OSHA wants to see the resort addressing the problem. Additionally, the presenters stressed the importance of getting staff to discuss accidents in real-time when they happen, not days or months later. "There is a culture of not speaking up, and we need to work on taking that away," said NSAA director of risk and regulatory affairs Dave Byrd.

Another class made the case for using video surveillance at chairlift loading and unloading stations. Mary Bozack, the director of risk management and education for MountainGuard, said that old-school managers often rejected that idea, worrying that any video could be used against the resort. But managers are realizing video can help resorts reject exaggerated or false claims of employee negligence, as video has shown that the vast majority of lift incidents are the result of guest error.

During a class on loading passengers, instructor Tom Scully reiterated how much is at stake with chairlift safety, given how litigious our society is. To underscore this last point, he noted that billboards on the freeways outside Denver offer legal help for those who got hurt on the mountain.

Despite the various concerns, the focus throughout was on solutions and working toward common solutions as a unified industry.

The conference also included an in-depth tour of Squaw's funitel and aerial tram led by Squaw's director of lift maintenance, Chris Woo, along with a trade show and an awards luncheon.