Snow People is our monthly roundup of happenings to the people of and around the mountain resort industry. Send any personnel news to: news@saminfo.com.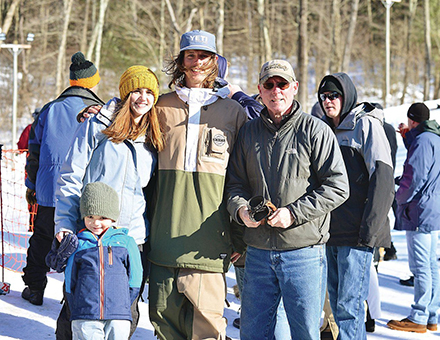 Longtime lift mechanic and operations manager Jeff Harvey Sr., right, stands with his son, Jeff Jr., at Ski Butternut.
Jeff Harvey, Sr., and Jeff Harvey, Jr., Ski Butternut, Mass.
Jeff Harvey Sr., operations manager at Ski Butternut, officially retired in September 2019 after more than 30 years of service and dedication to the ski area. His son, Jeff Harvey Jr., took over at least part of his responsibilities, and now runs the Ski Butternut lift maintenance department. Jeff Harvey Jr. returned to Butternut after a stint out west as a professional snowboarder with TRIBE snowboards.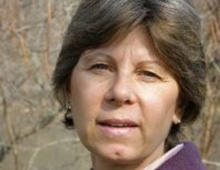 Debbie Motz and Stacey Gellert, 360 Adventure Collective
360 Adventure Collective—formerly known as Eastern Outdoor Reps Association—executive director Debbie Motz is retiring in March after more than 30 years with the organization. 360 Adventure Collective is a non-profit member association that has been organizing focused events for outdoor sales reps and retailers for more than 40 years.
The organization's board of directors has appointed Stacey Gellert, industry veteran and current 360 Adventure Collective regional director, to assume the executive director role.
Suppliers
Taylor Ogilvie, TechnoAlpin USA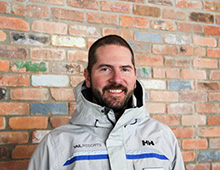 Taylor Ogilvie was appointed CEO of TechnoAlpin USA at the start of the new year. Ogilvie has 19 years of ski industry experience under his belt, a majority of which were spent with Vail Resorts where he held various positions, including general manager at Mt. Brighton, Mich., general manager at Wilmot Mountain, Wis., and most recently vice president of Vail's urban ski areas in the Midwest. He is based out of the TechnoAlpin U.S. headquarters in Denver.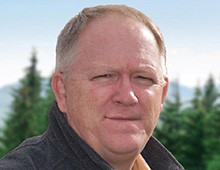 Brad Christiansen, Markit! Forestry
Markit! Forestry Management has appointed Brad Christiansen as its vice president of operations. Christiansen will be based in Markit! Forestry's headquarters in Colorado Springs, Colo. He joins the company from Highway Supply, LLC, in Albuquerque, N.M., where he was the general manager-senior project manager and an executive team member. In addition to his work at Highway Supply, LLC, Christiansen has more than 30 years of professional experience in managing large construction projects across the western United States and overseas.
Charuta Fadnis, Phocuswright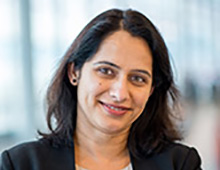 Phocuswright has appointed Charuta Fadnis as senior vice president, research and product strategy. Fadnis is a travel industry executive with domain expertise in business travel and had previously been an analyst with Phocuswright from 2014 to 2016. Prior to that, Fadnis served as director, strategic marketing and business insights at Egencia, where she shaped product strategy, led voice-of-customer initiatives and was instrumental in growing Egencia's global partner alliance to more than 40 countries.
Awards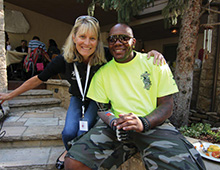 Cheryl Jensen, Women in Industry Award
The U.S. Ski and Snowboard Hall of Fame Women in Industry Award winner is Cheryl Jensen. Cheryl is being honored for her work with combat veterans through the lure of the mountains and the appeal of skiing and snowboarding, as founder and board chair of the Vail Veterans Program (VVP). After establishing Sharing Warmth Around the Globe (SWAG) in 2000, which has shipped approximately 300,000 winter garments from 89 ski resorts to 26 countries worldwide, she began VVP in 2004. Today, VVP has provided physical and emotional healing for roughly 3,000 severely injured veterans as well as their families and caregivers, hosting 450 participants per year in both summer and winter programs.
Obituaries
Lawrence "Larry" Demarse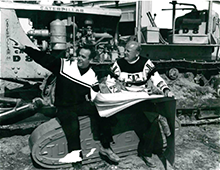 Demarse, left, with Ron Ratnik
Cofounder and former owner of Bristol Mountain, N.Y., Lawrence "Larry" Demarse died Jan. 3, 2020, at age 82. He was a businessman, entrepreneur, and engineer who opened Bristol Mountain in 1964. He had partnered with Ron Ratnik and was backed by investor Fred Sarkis to design, build, and open the resort. Dan Fuller, president and general manager of the resort for the last 40 years, described Demarse as a generous man who "enjoyed immensely whatever he was doing," whether it be linked to work or his personal life.
His family plans to create the Larry Demarse Foundation in conjunction with Bristol Mountain. The foundation will support young skiers who would not be able to hit the slopes without financial assistance.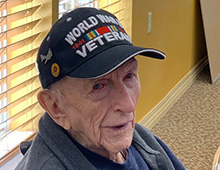 Charles Dwyer
Charles F. Dwyer, 98, of Lakewood, Colo., died Jan. 9, 2020. He was a registered professional engineer and passenger ropeway specialist from 1946 to 1987, working in the ski industry and then for the U.S. Forest Service, focusing primarily on ski lifts and gondolas. He served as technical adviser to the Colorado Passenger Tramway Safety Board, and was a member of the ANSI B77.1 Committee. He founded several organizations in the ropeway industry, including OITAF-NACS, the North American Continental Sections of the International Organization for Transport by Rope.
Dave Goode

Dave Goode, founder and president of GOODE Skis, died in January 2020 while taking part in one of his many passions, piloting his airplane, the company announced. He was 64. "Through his numerous technological advancements in both water skiing and snow skiing, and financial support of countless events and athletes in both sports, Goode touched the lives of thousands of people by helping them, and the sports they love, push the limits of performance," the company said. Goode was also an accomplished international competitor, recently winning the downhill event at the U.S. Ski & Snowboard Alpine Masters National Speed Series.