SAM Magazine—Broomfield, Colo., May 7, 2021—Vail Resorts (VR) has named new senior leaders to three of its Colorado resorts: Jody Churich, VP and COO of Breckenridge; Tara Schoedinger, VP and GM of Crested Butte; and Chris Sorensen, VP and GM of Keystone. All three will assume their new roles June 7.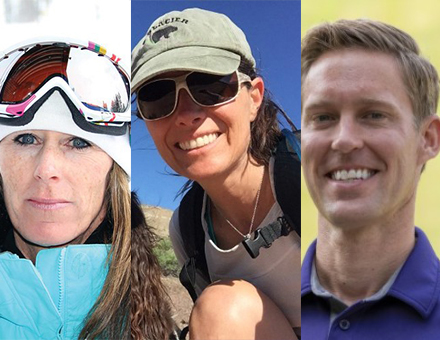 Jody Churich, Tara Schoedinger, and Chris Sorensen
With these appointments, 4 of 5 VR Colorado resorts are now led by women, including Nadia Guerriero at Beaver Creek Resort and Beth Howard at Vail Mountain. 
Jody Churich, a 2012 SAMMY winner, joined VR in 2018 as the senior director of skier services at Park City, Utah, before being promoted to vice president and general manager of Keystone in 2019. She is a 20-year industry veteran. Prior to joining VR, Churich was at Powdr Corp., where she served as the COO for Woodward Camps, and president and GM of Boreal and Soda Springs, Calif., and Woodward Tahoe before that. 
Tara Schoedinger comes from a background in business and information technology. She joined VR in 2010 and led the launch of the EpicMix app's photo, racing, and academy functions. She left the company in 2013 to serve as mayor of Jamestown, Colo., before returning in 2016 to facilitate the integration of Whistler Blackcomb into the VR portfolio. She has since served as chief of staff for the Mountain Division and as director of chief marketing officer projects.   
Chris Sorensen has been with VR since 2004, when he began as a lift operator at Keystone. After climbing through the operations ranks, Sorensen moved to Breckenridge in 2014 to serve as the senior manager of EpicMix photo, guest service, and scanning. In 2015, he became GM of Mt. Brighton, Mich., and then was promoted to lead Afton Alps, Minn., in 2018. He was promoted again in 2019 to head VR's Midwest resorts, and recently led the integration of the former Peak properties in the sub-region.  
These latest openings came about through the retirement of John Buhler at Breckenridge and the promotion of Tim Baker, who was the VP and COO of Crested Butte and is now the head of the Eastern Region—the 23 VR resorts in the Midwest, Mid-Atlantic and Northeast. 
VR has made a conscious commitment to increasing gender diversity within its leadership. In addition to the newly female-driven Colorado leadership team, 44 percent of its corporate board members are women, as are 45 percent of its executive leadership team.