SAM Magazine—Broomfield, Colo., August 11, 2021—Vail Resorts has named Rob Katz's successor: Kirsten Lynch, currently the company's chief marketing officer, will be appointed chief executive officer and elected to the Vail Resorts' board of directors, effective Nov. 1, 2021.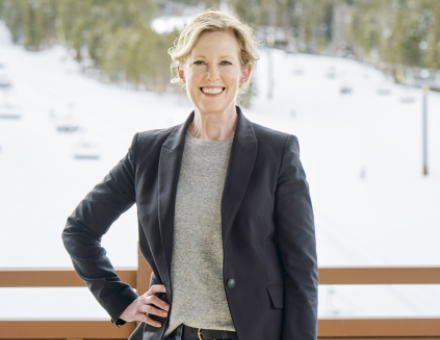 Kirsten LynchAt that time, Katz, CEO since 2006, will move into an executive chairperson role. 
"It is an honor to lead Vail Resorts as CEO and build upon Rob's legacy of reimagining the mountain experience," said Lynch. "Looking forward, I am excited about the incredible growth opportunities for Vail Resorts and committed to making our sport and our company more diverse, inclusive and accessible." 
"Over her 10 years with the company, Kirsten has been responsible for the transformation and success of Vail Resorts' data-driven marketing efforts and a primary driver of the company's growth, stability and value creation," Katz said. "Her tremendous enthusiasm for the long-term vitality of our sport and a very high commitment to leadership development within our company will make her an outstanding leader of Vail Resorts."
Lynch joined Vail Resorts in 2011 as CMO, having previously held senior leadership positions at PepsiCo and Kraft Foods. In 2019, she was named to Forbes' CMO Next list, where she was recognized as one of the top 50 game-changing marketing leaders. Lynch grew up in Chicago, first skiing at now Vail Resorts-owned Wilmot Mountain, and currently lives in Boulder, Colo., with her husband and kids.
Katz is stepping down from day-to-day operations after 15 years as CEO. In his new capacity as executive chairperson, he will continue to advise Lynch and the board on long-term strategy and critical priorities, and he will remain involved in Vail Resorts' leadership development and diversity, equity and inclusion activities.
"With our company having just navigated the most challenging period in its history and coming out stronger than when it began, this is the right time for me to take a step back and play a different role at Vail Resorts," said Katz. 
When the transitions take place Nov. 1, 2021, Ryan Bennet, current VP of marketing - lift revenue, will succeed Lynch as CMO. Bennett joined Vail Resorts in 2018 as vice president of marketing analytics before he was promoted to his current role. Prior to joining Vail Resorts, he was with Boston Consulting Group for 11 years, including four years as a partner and managing director.
"Ryan will bring his outstanding marketing, analytic and leadership experience to his role as CMO to help drive the future revenue growth of Vail Resorts," said Lynch.