SAM Magazine—Lake Geneva, Wis., Aug. 20, 2021—The Midwest Ski Areas Association (MSAA) hosted the first in-person ski industry meeting and trade show since Covid-19 upended things. On Aug. 15-18 at Grand Geneva Resort in Wisconsin, 254 attendees from ski areas, associations, and affiliates joined 119 supplier representatives to celebrate the successes of the past year, discuss the challenges, and look toward the future of Midwest snowsports.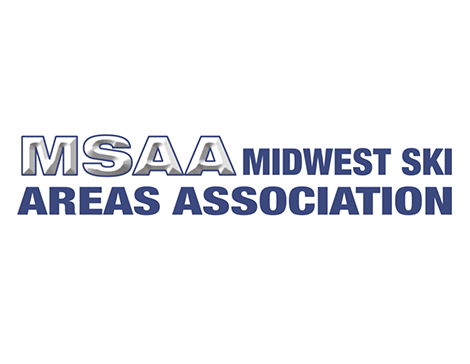 "The consensus from those in attendance was that it was so good to be together again," said MSAA executive director Amy Reents. "Many of us hadn't seen each other for two years. It was obvious that the in-person connections were greatly missed last year and thoroughly appreciated this year."
The event blended business, education, and recreation. Attendees had nearly 40 different sessions to choose from over the course of the show, as well as the opportunity to partake in the annual PistenBully Golf Tournament, a 38-mile group bike ride, a beer tasting, or rollerblading. The trade show hall was buzzing throughout. 
Keynote speaker Matthew Zabransky of Midwestskiers.com talked enthusiastically about his passion for Midwest skiing and riding, emphasizing how vital the region's ski areas are to growing the sports. "Be quirky. Be Midwest. Get people outside. It's not about the vertical feet, it's about the vibe," he told attendees.
NSAA CEO Kelly Pawlak led the general session on the state of the industry; while 2020-21 was a season like no other, there were terrific numbers to report across the country. (Check out some of the figures from NSAA's annual Kottke report here.)
Lift safety was a major focus at the conference. Arrival day kicked off with a lift evacuation seminar from Dave Byrd, Jim Woodrum, Mike Lane, and others. A five-session "Lift Safety Boot Camp" ran across the three days in conjunction with NSAA's Fall Education Seminars. Subjects included unseated passenger plans, setting your guests up for success, and root cause analysis.
Some sessions took stock of the industry. "Changes Worth Keeping," led by Jonathan Davis, Dan Grider, Nick Sirdenis, and Jim Rochford, examined the positive operational evolutions that emerged from the Covid-tinged winter of 2020-21 and shared ideas attendees could implement at their own areas. Some tools that will be staying: online tickets, outdoor F&B, and streamlined, simple products. 
Several other topics were covered in sessions, such as bullwheel bearing maintenance and service with Donnie Martin; snowmaking trends and challenges hosted by SMI's Brooke Alba and Wes Cashwell, and Torrent's Dan Duncan and Greg Sheets; making the most of the SARA rental buying program with Chris Stoddard and Tim Kohl; "Is it worth the risk?" on 3rd party activities from NSAA's Dave Byrd and MountainGuard's Ryan Lavoie; achieving racial and gender equity in snowsports with Luke Williams, Chris Walch, and Katie White; and many, many others.
At an awards ceremony during the event, SMI president Joe VanderKelen presented Gogebic Community College ski area management program director Jim Vander Spoel with the 2021 Jim VanderKelen Achievement Award, and Chris Stoddard presented MSAA's David Thomas with the 2021 MSAA Impact Award. 
Pre-arrival communications for the event included Covid-19 guidelines. Event organizers held many outdoor gatherings, had masks available for attendees, and made efforts to ensure indoor spaces were spread out.
More regional conferences and trade shows are scheduled into the fall. Check out the Industry Calendar for dates and details.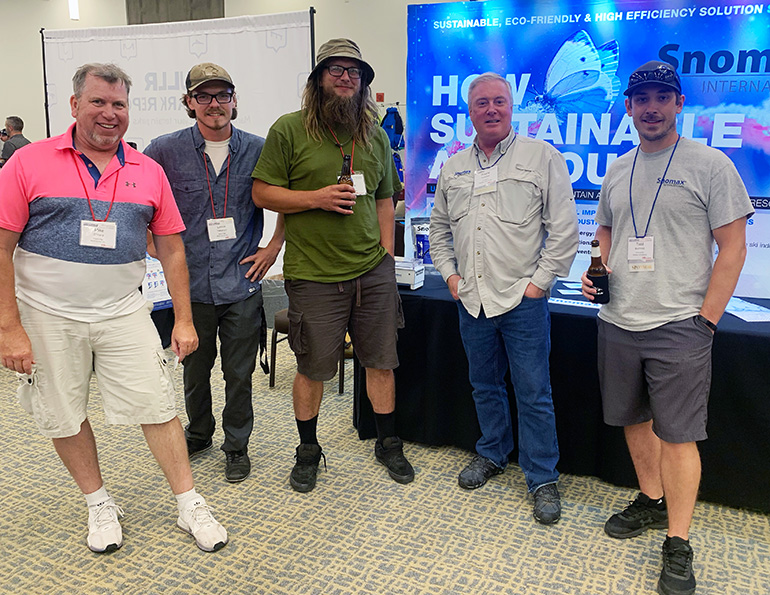 Wayne Palmiter and Todd Buchholz from Snomax Int talk with the Mont Du Lac crew.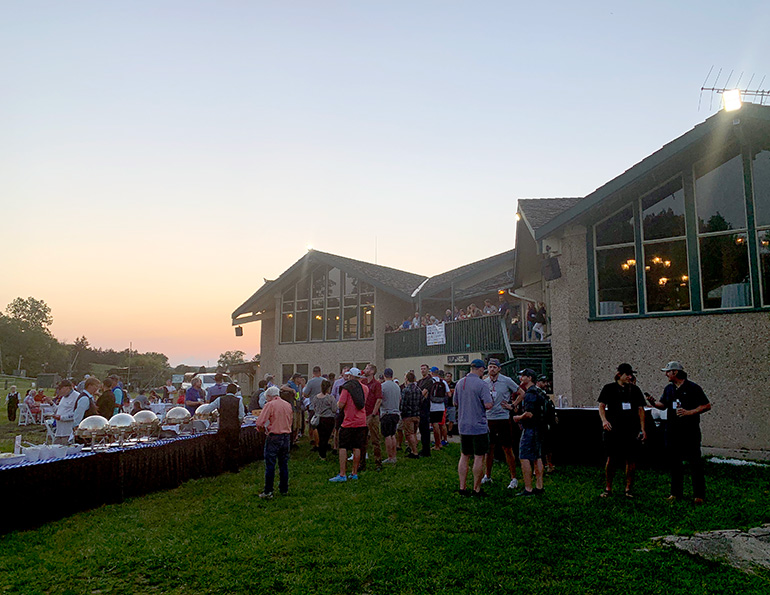 BBQ Golf Award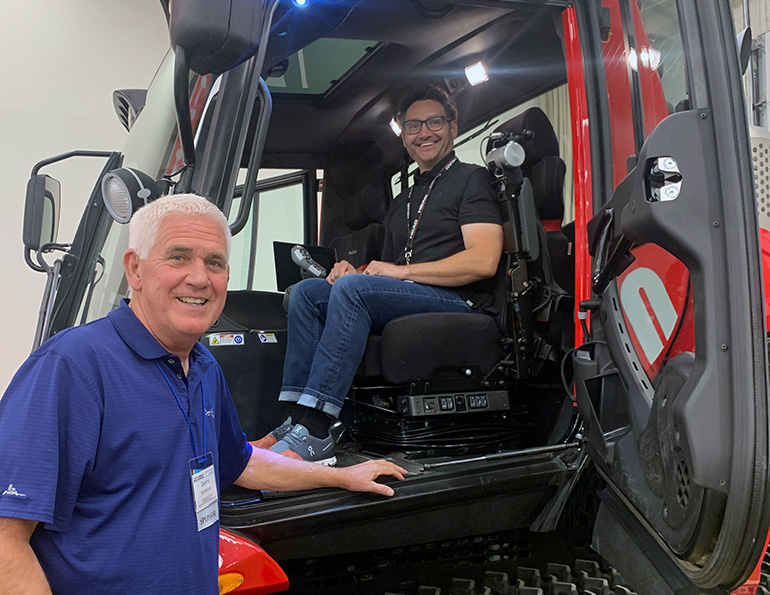 Dennis McGiboney from PistenBully NA with Rob Mignon from HEAD.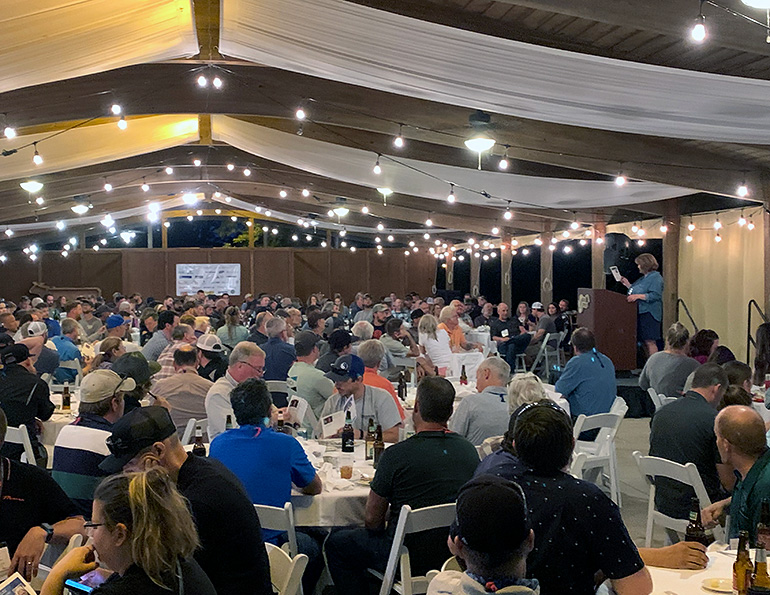 Dinner under the Stars Awards presentation.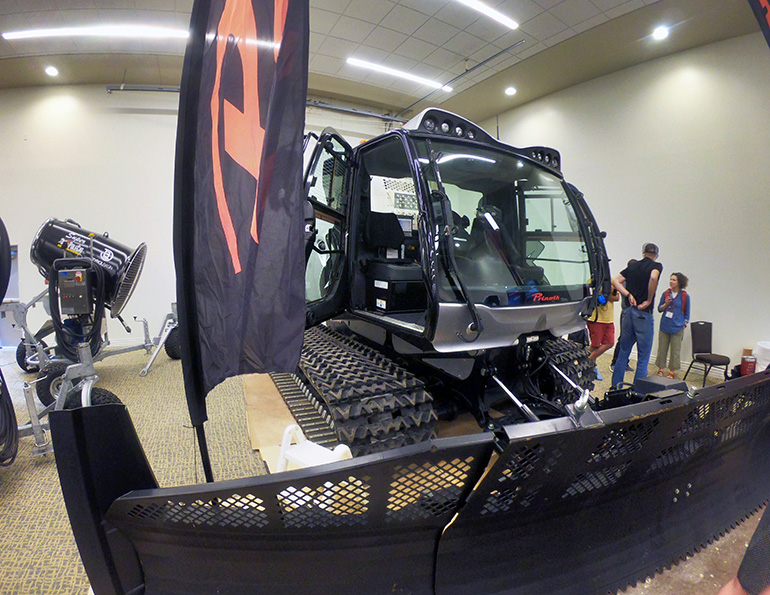 Prinoth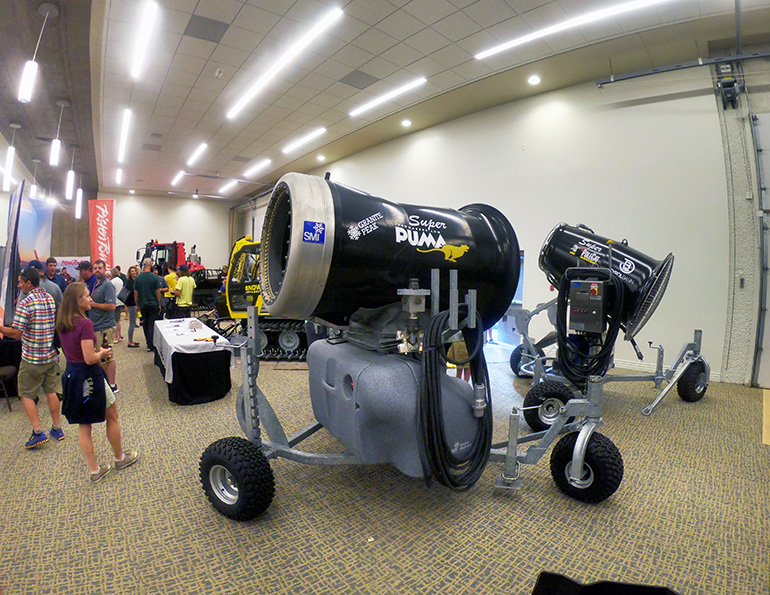 SMI Snow Makers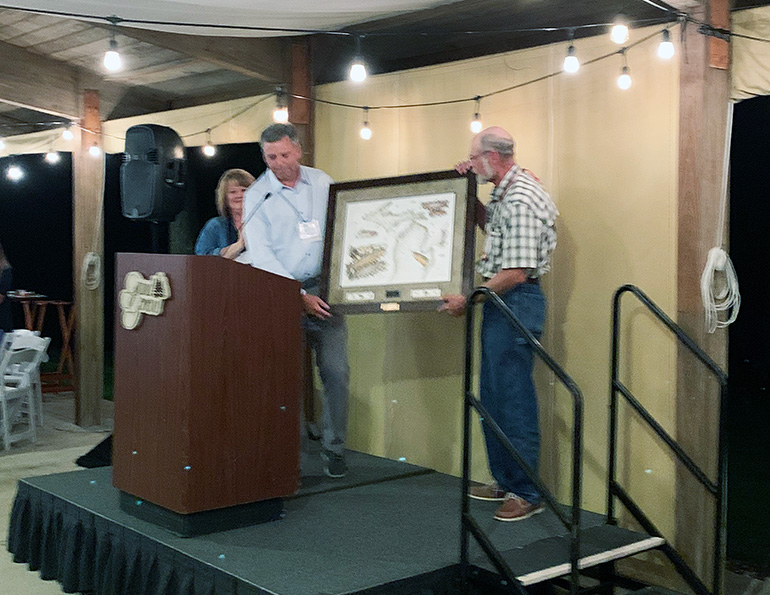 Joe Vanderkelen SMI presents Jim Vander Spoel with the Jim Vanderkelen Achievement Award.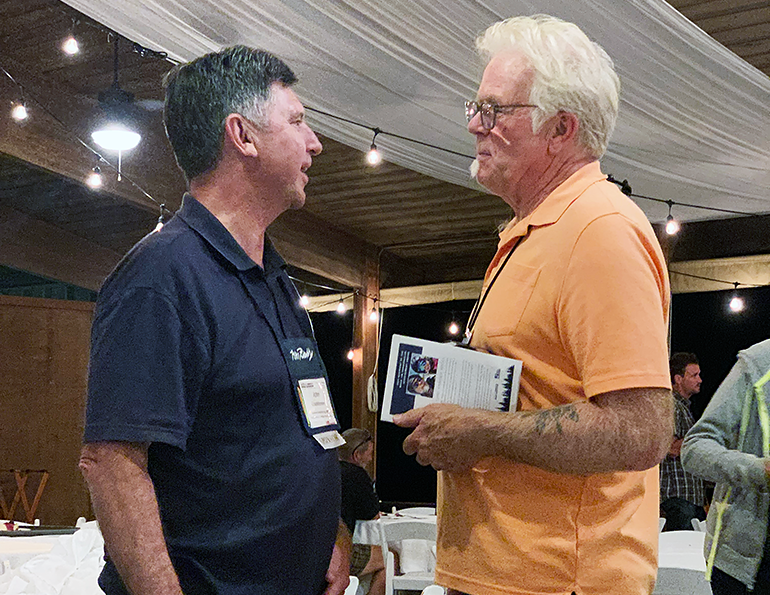 John Glockhamer from PistenBully USA congratulates David Thomas on his '21 MSAA Impact Award.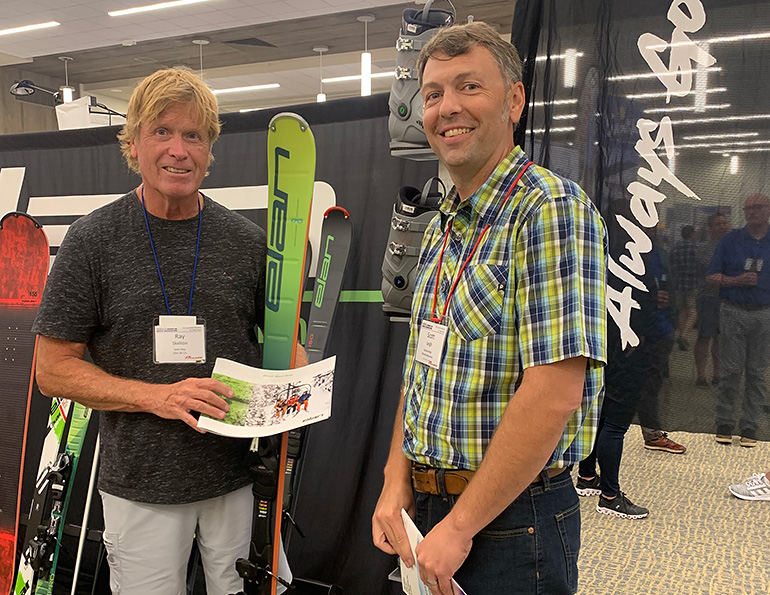 Ray Skelton from Elan chats with Scott Leigh, GM at Wilmot Mtn.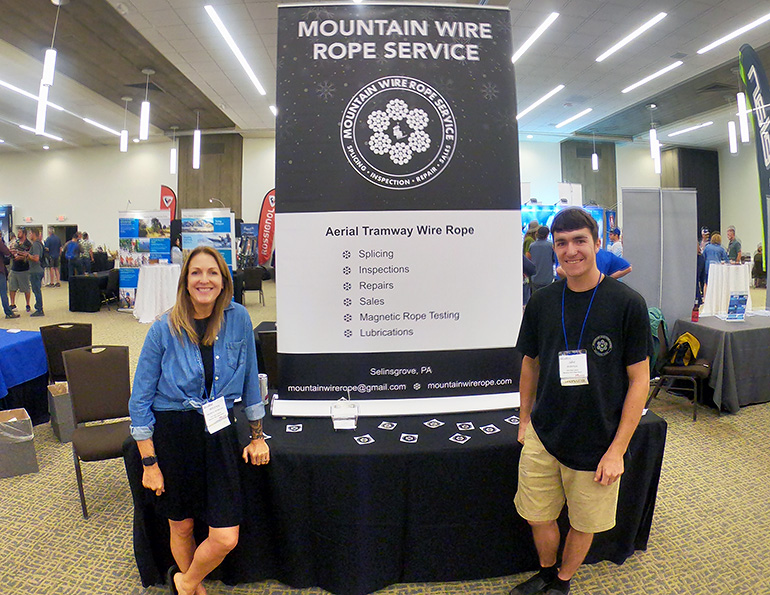 Whitney and Jake Anderson from Mountain Wire Rope Service happy to be back in person.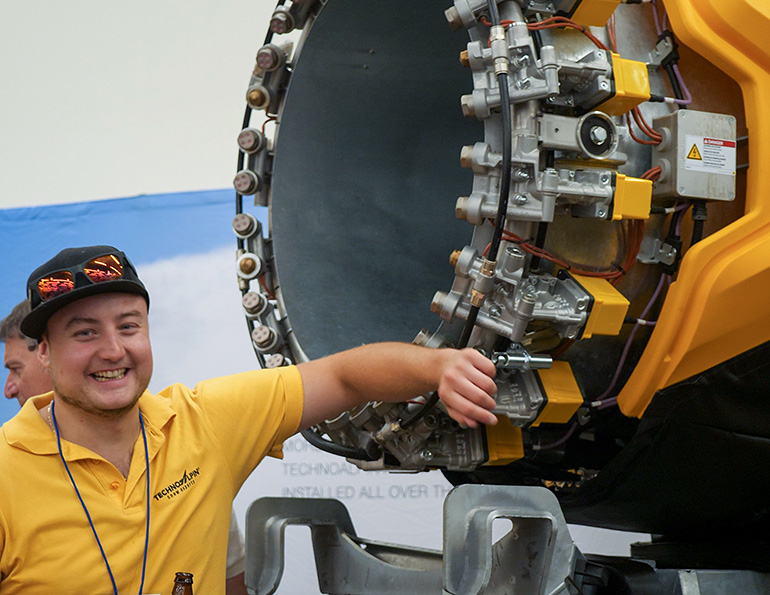 TechnoAlpin. Photo courtesy of Matthew Zabransky.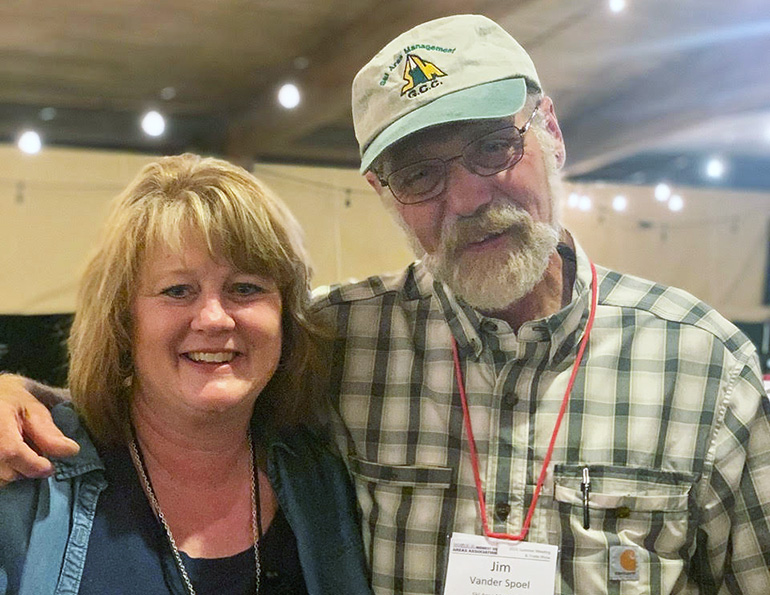 Amy Reents from MSAA and Jim Vander Spoel from Gogebic Community College.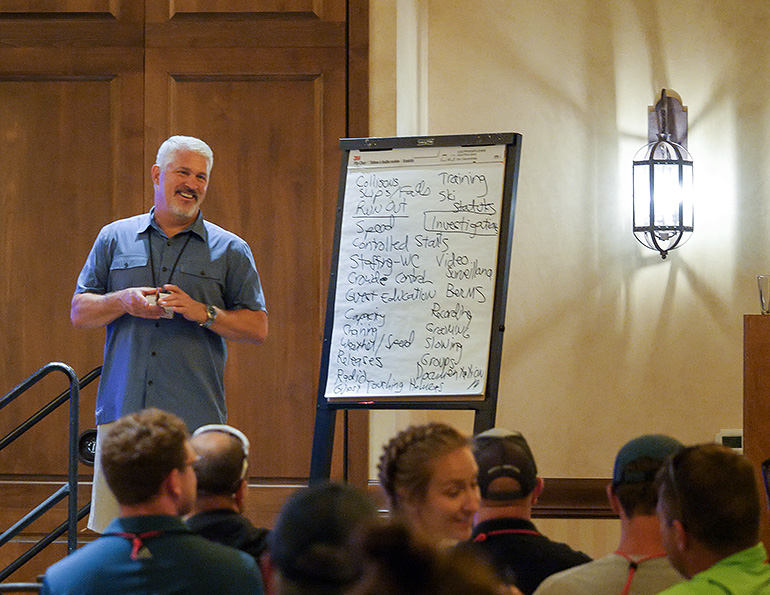 David Byrd of NSAA presenting. Photo courtesy of Matthew Zabransky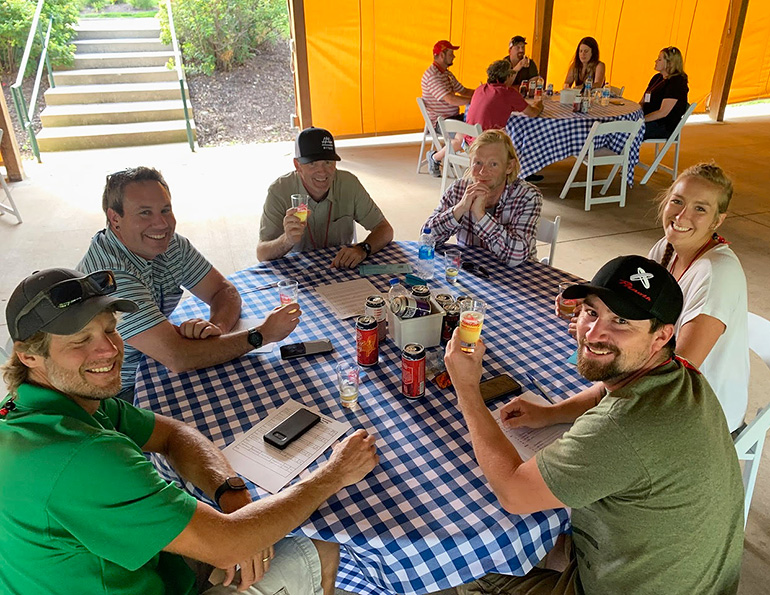 Lots of smiles at the beer tasting.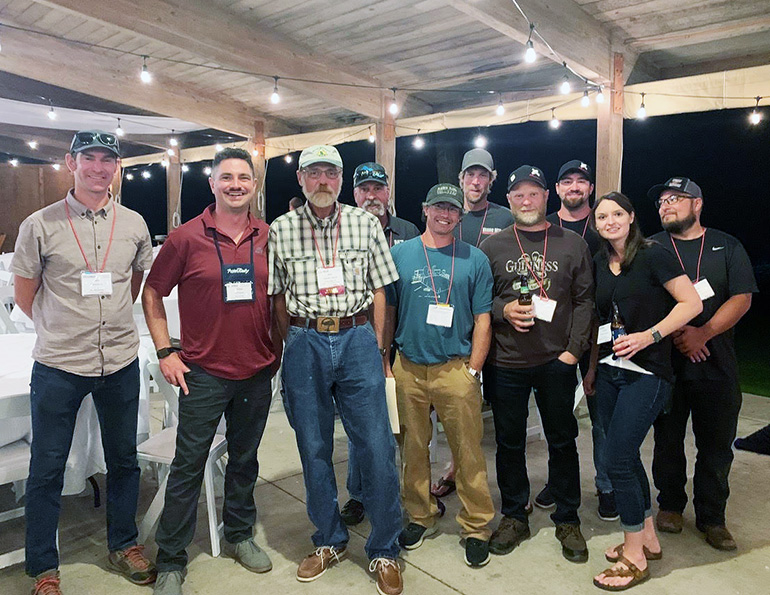 Gogebic Community College Alumni.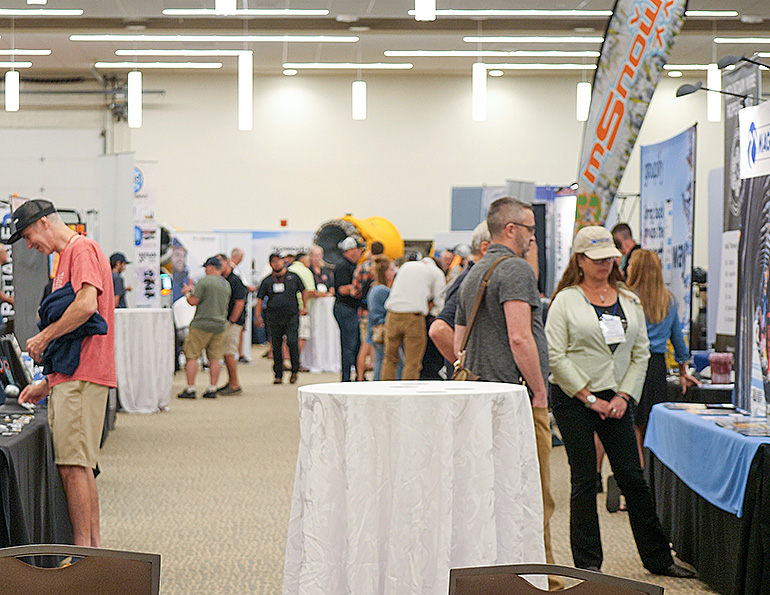 Photo courtesy of Matthew Zabransky.