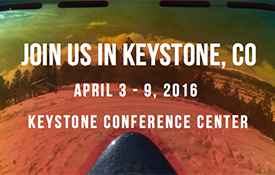 SAM Magazine—Laguna Hills, Calif. March 14, 2016— The 41st annual Mountain Travel Symposium (MTS) April 3–9 in Keystone, Colorado, will welcome it largest audience ever, as registered attendance has topped 1,000. That number includes an international contingent from 38 countries, providing an indication of how important group business is for destination resorts—and group travel buyers.
Representatives from resorts, lodging properties and tourism businesses attend MTS to build relationships with travel buyers, write orders for future business, and take advantage of the professional development available during the two-day Forum. The schedule fosters face-to-face meetings between travel "suppliers"—such as resorts, lodging properties, and attractions—and worldwide travel "buyers," such as tour operators, meeting planners, and ski club/group decision-makers.
This year's roster includes 147 ski group and council leaders—a 15 percent increase from last year. These travel buyers come from the U.S. Canada, Central America, South America, the UK, Europe, China, South Korea, Russia, and Japan. Registration from the international segment is especially strong this year.
For this year's Trade Exchange, April 4-5, where participants pre-register for individual appointments with an eye to negotiating contracts and generating new business, more than 80 tour operators from 53 companies have signed up—a 45 percent increase from last year. The Group Exchange, April 6-9, and Meetings Exchange, April 7-9 provide additional time for networking and deal-making.
The two-day Forum delivers "the ski industry's most important thought leadership programming available in the world," claims Bruce Rosard, the Forum's program producer. This year's topics, speakers and brands will cover a wide variety of subjects to provide insights and expertise on mountain travel sales and marketing. Participants from Google, Facebook, Airbnb, LeisureLink, Phocuswright, and DestiMetrics, among others, will join resorts from across North America in the Forum. Topics range from direct vs. third-party distribution and women's leadership issues to mobile and social sales and summer business trends.
For more information about Mountain Travel Symposium, visit www.mtntrvl.com.