SAM Magazine—Salzburgerland, Austria, May 9, 2016—The jury has always been out as to whether new lifts attract more people, but according to usage figures recently released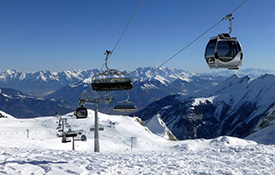 by the Kitzsteinhorn glacier in Austria's Salzburgerland, there may be evidence they do.
The ski area, which is open for nine months of the year, celebrated its 50th year of operation last winter with a big investment in two new lifts built by Doppelmayr, the Gletscherjet 3 and 4.
This unique two-stage mountain transport starts with a span from the base to a midstation that carries both eight-passenger chairs and ten-passenger gondola cabins (i.e. a chondola), called Gletscherjet 3. Once at the midstation, the chairs travel around the bullwheel back downhill, and the gondola cabins continue up to the summit on Gletscherjet 4.
The new lifts have proved extremely popular—the Kitzsteinhorn's operators say that in the five-and-a-half month period between mid-October 2015 and the end of March 2016, the two ropeways transported nearly three million passengers. This is believed to be a record for a winter lift, the resort says.
This article is based on a report in Snow Hunter's World Weekly Snow News