SAM Magazine—Nashville, Tenn., May 20, 2016—Judy Dorsey, the principal and founder of Brendle Group, a sustainability engineering and planning firm based in Colorado,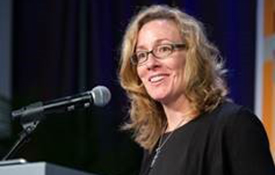 received the Industry Impact Award from the National Ski Areas Association (NSAA).
Dorsey is the first woman to receive an Industry Impact Award from NSAA. Long recognized for her commitment to sustainability in the ski industry, she has worked hand in hand with NSAA and individual resorts over the past 15 years to raise the bar on environmental performance, improve transparency and accountability, reduce the ski industry's collective carbon footprint, and most of all, to inspire change.
"I couldn't be more grateful, proud, and humbled by what this represents for ski industry sustainability and all the people across the industry that have shared in the hard work and collaboration of making it so," Dorsey said. "Given the past recipients and spirit of the Industry Impact Award, I'm deeply grateful to NSAA for celebrating that sustainability has come of age and is making an impact."
"Judy Dorsey has influenced ski area sustainability more than any other person in the past 15 years," said NSAA president Michael Berry. "With her assistance, ski industry sustainability has come of age."
In particular, Dorsey helped shape the Sustainable Slopes Grant Program and donated four years' worth of in-kind grants to it, including an Energy Audit Grant, a Sustainability ROI Grant, and a Climate Adaptation Grant. The company has evolved the focus of its grants to reflect trends and meet the industry's needs at the time. She has also donated significant pro bono time to NSAA sustainability programs and led educational sessions on a range of topics, from clean and renewable energy to water resources management and climate adaptation.