SAM Magazine—Nashville, Tenn., May 20, 2016—U.S. ski areas tallied an estimated 53.9 million skier and snowboarder visits during the 2015-16 season, up slightly from last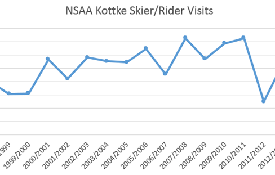 season's 53.6 million total, according to the National Ski Areas Association (NSAA). A record year in the Pacific Northwest and the Rockies was offset by steep declines in visitation in the eastern half of the country.
The Rocky Mountain Region tallied an 8 percent increase in skier visits this season over last season, topping 22.3 million visits. Even more impressive was the rebound on the West Coast. The Pacific Northwest Region saw a stunning increase of 142 percent in skier visits over the drought-plagued season last year, more than doubling its visits from two million in 2014-15 to 4.8 million visits this season—the most the region has had in 38 years of the Kottke survey. The Pacific Southwest region jumped 53 percent over last season.
Weather challenges across the entire eastern half of the country resulted in declines from the 2014-15 season in the Northeast (down 28 percent), Midwest (down 17 percent), and Southeast (down 30 percent). For the Midwest, visits were the lowest in the 38-year history of the Kottke report; visits in the Southeast were the lowest in 37 years, topping only the total in the study's inaugural year. For the Northeast, this past season was the fourth-worst in the past 38.
Nonetheless, this past season demonstrated the market's resiliency. "It's especially encouraging to see how strongly California roared back from four straight bad seasons of drought, with the amazing recovery this season reflecting the pent-up demand from our guests," said Michael Berry, president of NSAA. When the snow returned to the West Coast, "Our skiers and boarders came back this season with a vengeance, which reinforces the underlying passion and loyalty of our guests, and it bodes very well for our ski areas in the East, Midwest and Southeast for next year," Berry said.
For additional historical perspective, visits in 2015-16 season were down 4.6 percent from the 10-year industry average of 56.5 million. Visits for 2015-16 nationally were up 6 percent from a recent low of 51 million visits in 2011-12, but down 11 percent from a record high of 60.5 million visits during the 2010-11 season.