SAM Magazine—Zhangjiakou City, China, May 27, 2016—In a move aimed at tapping into the growing Chinese tourist market, Squaw Valley Alpine Meadows has entered into a "strategic alliance" with China's Genting Secret Garden Resort, one of the host areas for the 2022 Beijing Winter Olympics. California is currently the top U.S. destination for Chinese travelers, who spent $2.5 billion in California in 2015, according to research by Visit California.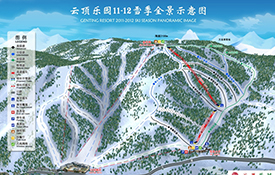 The relationship will offer five free days of reciprocal skiing/riding for season passholders at each resort, as well as exclusive discounts at the other resort. Plans also call for cross training of resort staff and management exchanges to help prepare each resort for a greater number of visitors from the other destination.
Genting Secret Garden is slated to host the freestyle and snowboarding events for the 2022 Winter Olympics, making it an attractive partner. "The Chinese skier market has seen significant growth over the last fifteen years, and as the 2022 Beijing winter games approach, the fever for winter sports in China is very real," said Andy Wirth, president and CEO of Squaw Valley Ski Holdings.
"Although Chinese visitation to Squaw Valley Alpine Meadows is nothing new, we have an incredibly unique opportunity to appeal to this burgeoning market, and we already have a number of plans in place to better attract Chinese visitors," said Wirth.
Genting Secret Garden Resort currently has 35 runs accessed by four lifts. The five-year plan for the resort calls for 88 runs and 22 lifts, along with additional lodging and year-round activities.
"It is truly our pleasure building this strategic cooperation with Squaw Valley Alpine Meadows, which is one of the top ski resorts and mountain destinations in the world," said Mr. Xiao Huanwei, CEO of Secret Garden.
In anticipation of increased visits from China, Squaw Valley Alpine Meadows will participate in Visit California "China Ready" program. The resort plans to create Chinese language signage and marketing materials, train staff on how best to cater to Chinese guests, and design dining and amenities options geared toward the Chinese consumer. Squaw/Alpine also has plans to roll out a more robust Chinese language website, and is considering a dedicated WeChat channel, a popular Chinese social media platform.