SAM Magazine— Londonderry, Vt., Nov. 23, 2016—Having been through its fair share of ownerships and plenty of uncertainty about the future, Vermont's Magic Mountain has begun a new chapter. Ski Magic LLC, a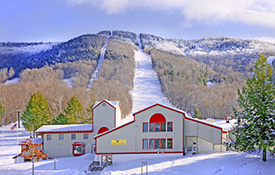 locally based ownership and operating group, completed its acquisition of the classic New England ski area Tuesday, and plans to make immediate improvements.
"While the late closing of the purchase puts us a bit behind the 8-ball prepping for the new season, we've already made significant progress on lift repairs, snowmaking upgrades, and trail and glade clearing," said Ski Magic president Geoff Hatheway. "Along with our large volunteer corps and soon-to-be employees pitching in, Magic will be open come December 17, better than ever."
The new owners plan to execute a series of capital improvement projects over the next several years designed to improve the quality, efficiency, and consistency of Magic's product and operating profile. This includes more than $2 million for snowmaking efficiency and expansion, better lift reliability, a new lower-mountain lift, and a better learn-to-ski environment to help attract young families.
The new operators will work with the state of Vermont on expanding access to water so the area can boost snowmaking coverage to 50 percent of its terrain. New low-energy snow guns have already been ordered for this winter.
"Magic has been one of Vermont's best kept secrets," said Hatheway. "But it's time to let a few more people know about this alternative, some say 'counter-cultural,' ski experience, which harkens back to an era when Vermont skiing originally began to take off."