SAM Magazine—Dover, Vt., March 13, 2017—Snow continues to be the story here in the States as well as in Europe.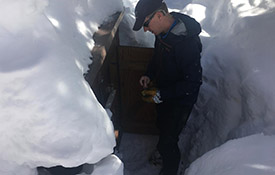 At the beginning of last week, heavy snow in the Alps produced one of the biggest 24-hour snowfall totals of the season so far. Leading the way was Les Contamines getting two feet of fresh snow March 6-7. Val d'Isere scored with nearly 21 inches over the same timeframe.
That topped off a six-day stretch during which several feet came down at many areas. La Rosiere reported eight feet of snow in six days. Les Saisies said it received 6.5 feet, and Meribel got more than five feet of fresh snow in the same period.
With the historic snowfall thus far in the Sierras, scientists have actually run into a little trouble measuring the snowpack, because physical tools aren't built to measure that deep.
According to reports, at a snow depth data site on Slide Mountain at Mt. Rose Ski Tahoe, hydrologist Jeff Anderson recently came up short after jamming an aluminium tube more than 16 feet into the snowpack hoping to reach the ground below. "We're not even close," he said.
The snowpack is 212 inches deep at the Slide Mountain SNOTEL site. Water content at the site was 74.6 inches, meaning there's more than six feet of water in the 17-foot snowpack—a record for March 1 at the site. The previous record for March 1 snow water equivalent at the site was a little more than five feet in 1997. The overall site record was more than seven feet of snow water equivalent in May 1995.
On the other side of the country, a monster winter storm has its sights set on the Northeast starting Tuesday. If forecasts are correct, the storm will bring heavy snow from Washington D.C. to Portland, Maine—and replenish the diminished snowpack at basically every ski area in the region.
Estimates are calling for the nor'easter to drop as much as two feet (or more) of the white stuff on the mountains of Pennsylvania, New Jersey, New York, Connecticut, Massachusetts, Vermont, New Hampshire, and Maine through Wednesday. A nice break for snowmakers who have been back at it since a meltdown came through at the end of February.
Portions of this report are from Snow Hunter World Snow Resort News