SAM Magazine—Denver, March 20, 2017—With less than a month remaining in the winter 2016-17 booking season, overall aggregated occupancy for 19 western mountain resorts remains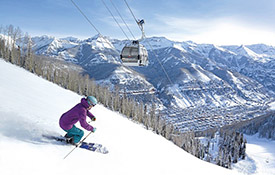 essentially flat, up 0.3 percent as of Feb. 28, compared to the same time last year. In contrast, overall aggregated revenue is up 7.3 percent for the same time period, according to a report by DestiMetrics. The data also revealed that 90 percent of all of last season's business has already been booked or "banked" for this season.

Somewhat concerning is the pace of bookings during February—bookings made during the month for arrivals in February through July. These declined 12.1 percent when compared to bookings made in February 2016. Five of the next six months show significant declines, with the exception of April, which had a 19.8 percent gain in bookings for that month compared to last year.
"Snowfall and economic/geopolitical forces have been inconsistent this season and we're seeing inconsistent results as well," reported Ralf Garrison, director of DestiMetrics. "As resorts approach capacity during the height of the season, growth in occupancy has been miniscule while aggregated revenue continues to climb. Revenue in the Far West resorts are up a slight 1.6 percent, while Rocky Mountain resorts are up a strong 7.2 percent," he added.
For the upcoming summer, occupancy rates as of Feb. 28, for May, June, and July are each declining while August is up sharply. Strong room rates are driving revenue; overall aggregated occupancy for May through October is up a slight 1.8 percent, while revenues are up a healthy 12.1 percent.
But back to this winter. "Combined market forces, political shifts and weather anomalies have all had an impact on this season's performance, resulting in a slow start, strong mid-season growth, and signs that the end of the season is slowing considerably as resorts focus on March visits, school breaks, and a late Easter," said Garrison. "While the destination lodging business is largely set, local and regional skier visits can still have a considerable impact during these upcoming weeks," he concluded.