SAM Magazine—Cheyenne, Wyo., March 22, 2017—Wyoming has become the 29th state to adopt ski safety legislation after Gov. Matt Mead signed the Wyoming Ski Safety Act into law earlier this month. According to an NSAA report, the bill defines inherent risks involved with skiing and snowboarding, immunizes ski areas from claims resulting from these risks, and places operational requirements on ski areas to improve mountain safety.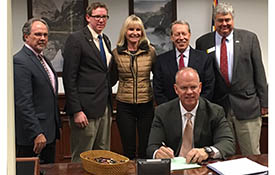 Previously, Wyoming's ski areas had been covered by the state's Recreational Safety Act, which is meant to govern claims for injuries resulting from inherent risks of several different activities, such as skiing, rafting, horseback riding, etc. The RSA lacks specific language needed for ski areas to obtain summary judgment. So even without proof of liability, claims would often lead to favorable settlements for plaintiffs, since ski areas wanted to avoid the costly process of taking a lawsuit to trial.
The bill's catalog of "inherent risks" of skiing and snowboarding includes changing snow or weather conditions, surface and subsurface conditions, variations in terrain, and weather conditions. These items extend to avalanches, snow slides, and snow immersions as being within the inherent risk of skiing—a result of the recent Colorado Supreme Court ruling in Fleury v. Intrawest, which held that avalanches were part of the inherent risks of skiing under the Colorado statute.
Ski areas are also protected from tubing injuries under the new law, since "skiing" is defined as "includ[ing] sliding downhill on skis or a toboggan, sled, tube, [or] other device."
Failure to warn is also addressed, with the law stating that skiers "shall be presumed to have seen and understood all signs, warnings, and other information posted."
On the operations side, Wyoming ski areas must now adhere to the most current version of the ANSI B-77 standards for the operation, inspection, and maintenance of aerial tramways and chairlifts. Ski areas must also mark or identify ski area boundaries, post warning signs, operate vehicles with lights and flags, and post signage or close a trail with fences or rope if a trail is closed to the public.
"The constant outreach efforts by the Wyoming ski areas for this legislation was nothing short of impressive," NSAA said in its report, "and this joint effort paid off with legislation that will improve skier safety in Wyoming, while providing vastly improved protections for ski areas from frivolous lawsuits."