SAM Magazine—Broomfield, Colo., Aug. 1, 2017—Geoff Buchheister, previously vice president for Vail Resorts' urban ski areas, is now vice president and general manager for Keystone Resort. He succeeds Mike Goar, who is transitioning to COO at Heavenly Mountain Resort, with additional oversight of the company's Kirkwood Mountain and Northstar California resorts.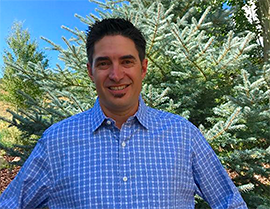 "Over his 15-year career at Park City, and in his most recent role providing leadership for the urban ski areas, Geoff has demonstrated a passion for our business as well as the capacity to manage its complexity and intensity. Further, his drive and focus on the guest experience and the ability to connect with colleagues, resort guests and communities have established him as a successful leader for our company and within the industry," said Chris Jarnot, mountain division executive vice president at Vail Resorts.
"I am very much looking forward to continuing my leadership with the company at Keystone where the incredibly talented team has established the resort as the premier mountain resort experience for families," said Buchheister.
Buchheister has nearly 20 years of ski resort industry experience, primarily at Park City in various financial leadership roles, most recently as the director of finance and resort services. He joined Vail Resorts in 2014 when VR acquired Park City Mountain Resort and was appointed to lead the company's urban ski areas—Afton Alps, Minn., Mt. Brighton, Mich., and Wilmot, Wis. Buchheister led the $13 million capital improvement plan at Wilmot, which transformed the guest experience for the 2016-2017 season.
Buchheister grew up in the ski industry in Winter Park, Colo., where his father was an executive with Winter Park Resort. He attended the University of Colorado at Boulder (CU) where he was a three-time NCAA All-American racer on the CU ski team.
The search to fill Buchheister's urban ski areas general manager role will begin immediately.