SAM Magazine—Glenwood Springs, Colo., Aug. 1, 2017—Season pass holders at Sunlight Mountain Resort can now receive three free ski days at Kiroro ski area on Japan's North Island as Sunlight expands its global alliances. Passholders can also access more free ski days at areas in Alaska, Colorado, Idaho, Wyoming, and Washington.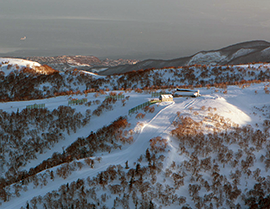 Kiroro Ski ResortKiroro, 35 miles west of Sapporo and 67 miles from the New Chitose Airport, about an hour and a half flight from Tokyo, has 21 designated runs on 2,000 vertical feet and an abundance of off-piste skiing. The area averages more than 750 inches of snow a year.
"We're excited to partner with Sunlight, we like the boldness illustrated with its Sunny $700 day ticket, and like Sunlight, Kiroro is also well-known for deep powder and great hot springs," said Scot Ennis, vice president of international partnerships for Kiroro.
Sunlight passholders can also access four free days at Alp 2500 ski resort in the Spanish Pyrenees.
Closer to home, Sunlight's partnerships offer passholders three free days at Eaglecrest, Alaska, Snow King, Wyo., and Mission Ridge, Wash., and two free ski days at Lookout Pass, Idaho.
Sunlight has also partnered with Silverton Mountain, where passholders can grab one free unguided ski day during Silverton's unguided season, March 30–April 1 and April 6-8, and receive a 30 percent discount on guided skiing on Sundays in December and January, subject to availability and advanced reservations.
"Our goal is to continually deliver the best value while also opening up new skiing and riding opportunities for our passholders, so we're particularly excited about the new partnerships we've formed for the upcoming season as well as the continuation of our existing partnerships with like-minded Western ski areas that our season pass holders have been enjoying for many seasons," said Troy Hawks, Sunlight marketing and sales director.
The area also offers a variety of discounts to local businesses and services.