SAM Magazine—Denver, Aug. 18, 2017— According to the most recently released data from the Monthly Market Briefing compiled by DestiMetrics, an Inntopia company, lodging occupancy for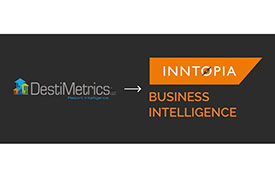 the full summer is up only a slight 0.4 percent. However, strong gains in the Average Daily Rate (ADR) at those same properties have boosted summer revenues 7.7 percent compared to the same time last year. The report covers 20 destinations and 290 lodging companies in the Western U.S.
Actual occupancy for July was down 1.7 percent, but revenue grew 7.7 percent.
Flattening occupancy is a big change from recent summers. "Revenue growth in the previous five summers has been due to a combination of steady increases in both occupancy and ADR," said Ralf Garrison, director of DestiMetrics. "But this summer is markedly different; occupancy figures have remained essentially flat while revenue figures continue to climb."
Projections based on the data provided by 20 mountain destinations in eight states suggest that the trend will continue into the early winter. Bookings made in the month of July for August arrivals were down a slight 1.9 percent. September is up 3.3 percent, October is up an enormous 71.1 percent, November is up 27.1 percent, and December is up 0.4 percent compared to the same time last year.
The trend for greater year-to-year growth in September and October visitation is notably consistent with the past few summers, and indicates the fall "shoulder season" is strengthening.
Regional differences were slight. Destinations in the Far West—California, Nevada, and Oregon—have experienced a two percent decline in occupancy, while participating destinations in the Rockies—Colorado, Utah, Wyoming, Montana, and Idaho—have ticked up 1.1 percent. The ADR for the Far West has risen 4.9 percent in the last year, while the Rockies are up 8.3 percent.
"This pattern of building revenue almost entirely on rate gain is a continuation of the pattern that emerged last winter, but it does raise questions about the cause of the change," observed Tom Foley, vice president of Business Intelligence for Inntopia.
"It is still unclear whether it is pressure on professionally managed inventory from rent-by-owner options like VRBO or Airbnb or simply market tolerance for higher rates that are impacting bookings," he continued.
"Regardless of the reason, it is clear that consumers are behaving differently when it comes to purchasing their lodging in mountain communities, and once again, lodging properties and mountain towns will need to understand and adapt to the new reality," he concluded.
Inntopia and sister company PhocusWright will share and explore nationwide trends in summer destination visits and revenues at the upcoming SAM Summer Ops Camp at Killington, Vt., Sept. 5-7. For more info, visit www.summeropscamp.com