SAM Magazine—Vernon, N.J., Aug. 22, 2017—SNOW Operating has entered into a long-term partnership with Mountain Creek Ski Resort, N.J., to manage the resort's winter ski, snowboard,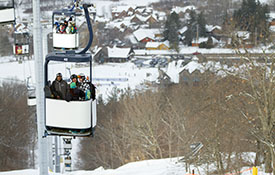 and snow tubing businesses, as well as the mountain biking operation in summer. As part of the agreement, SNOW Operating CEO Joe Hession is now the resort president. The rest of the team will be transitioning into the role over the next few months with the resort's owners, the Koffman family of Binghamton, N.Y.

"Mountain Creek has always felt like home to me. I grew up here in Vernon and my family still lives in town. I got my first job parking cars at the resort and I owe so much of my success to the skills I learned and people I met while working at Mountain Creek," said Hession. "I couldn't be more excited to return to the resort and get to play a role in helping to secure its future for generations to come.
"Over the next weeks, months, and years, I am confident that our guests will see that we are committed to making Mountain Creek the best resort it can possibly be for them, for the community and for our employees. We can't wait to get started and look forward to an amazing winter together this year."
SNOW Operating plans to apply the same practices that have made it a successful third-party partner with resorts around the world. Plans include a strong focus on the guest experience, a returned attention to the resort's core businesses, and committing resources into the resort's infrastructure, including a $5 million investment to improve the snowmaking capabilities over the next five years.
"We are very excited about this partnership with SNOW Operating. Joe and his team are highly respected throughout the industry as thought leaders and innovators in the area of resort operations. Couple that with their strong personal connections to Mountain Creek and this area, and I know they are going to do great things for the resort and this community. We look forward to a long and mutually beneficial partnership for all," said Jeffrey Koffman, owner of Mountain Creek Resort, Inc.
Mountain Creek winter season passes will go on sale Tuesday, Sept. 5. In the meantime, the resort's waterpark and bike park are open daily through Labor Day, and several events are planned through the Fall.