SAM Magazine—Lakewood, Colo., Aug. 28, 2017—Parker Riehle is the new president and CEO of the National Ski Areas Association (NSAA). Riehle—who is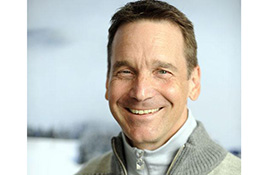 currently the president of Ski Vermont, the Vermont Ski Areas Association (VSAA)—will assume the position on Jan. 1, 2018, replacing Michael Berry, who is retiring after 25 years.
"We are excited to welcome Parker to the organization," said Tim Silva, general manager of Sun Valley and chair of the NSAA Board of Directors, who made the selection. "His industry experience as the long-standing president of the Vermont Ski Areas Association will serve the members of NSAA well."
"I am thrilled, honored, and humbled to be named the next president and CEO of the National Ski Areas Association," said Riehle. "Under the unparalleled leadership of Michael Berry, NSAA's role in educating, inspiring, and empowering ski areas all across the nation has become ever more important in the face of critical challenges to the industry, and I could not be more excited to help convert those challenges into opportunities. While it is certainly bittersweet to be leaving the Vermont Ski Areas Association, I am looking forward to taking my rewarding experience and insights with VSAA to the national level."
Riehle has nearly 20 years of association experience. He joined VSAA as director of government affairs starting in 1998, and later served as vice president and general counsel before becoming president in 2006. Riehle previously worked for then Vermont Governor James Douglas as special assistant to the governor and secretary of civil and military affairs. He also worked for several law firms in both Vermont and California after graduating cum laude from Vermont Law School in 1992.
In his new role, he will head an organization that represents 303 alpine resorts, which account for more than 90 percent of the skier/snowboarder visits nationwide. NSAA also has 370 supplier members. The association's primary objective is to meet the needs of ski area owners and operators nationwide and to foster, stimulate and promote growth in the industry. In this latter function, it is expected that Riehle will seek to help resorts market more aggressively to potential skiers and riders.