SAM Magazine—Lebanon, N.H., Sept. 11, 2017—Industry veteran Mike Colbourn is now president of SnoCountry, Inc., a not-for-profit winter resort trade association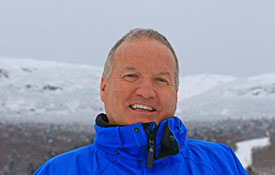 best known for hosting and disseminating daily snow conditions reports. He takes over for Tom Cottrill, who is retiring after leading the organization for the last 22 years. Colbourn is only the third president in SnoCountry's nearly 50 years of existence, following Cottrill and founder Phil Camp.
The organization started as the New England Ski Areas Council back in the late '60s, and has grown into the world's largest snow conditions reporting platform. SnoCountry reports are carried on a network of more than 800 radio stations, and it also feeds several television networks and websites that carry ski and snowboard conditions, and resort information.
When Cottrill took over as president in the mid '90s, the organization was going through a tough time financially and needed someone to right the ship. "What Tom did right away is provide a lot of stability for the organization, and since then has continued to move us forward," said SnoCountry's marketing communications manager Tom Horrocks. "Over the years, he's been very receptive to new things and has embraced change. He spearheaded the change from SnoCountry being just a New England-based organization to more of a national organization, and set it up so more resorts got involved. He's done a wonderful job."
Colbourn was a customer of SnoCountry's during his time as vice president of marketing, sales, and communications at Stowe Mountain Resort, where he spent 22 years. He started in the industry as a ski instructor at Smugglers' Notch in 1978. After that, he taught at Mad River Glen for 10 years, and then had stints with Rossignol and Warren Miller Films before landing at Stowe.
The opportunity at SnoCountry was first presented when a call came in from Ethan Mueller, VP of Triple Peaks and chairman of SnoCountry's board. "I know Ethan through work I've done with SnoCountry, and he pitched the job to me," said Colbourn in an interview with SAM. "It's still in the industry that I love and grew up with, yet it's completely different than what I've been doing, so that was really exciting to me. I was in the right place at the right time, and knew the right people."
While on the resort side, Colbourn was able to work with a broad network of resorts over the last two years when Stowe was the only eastern brand on the Mountain Collective. "I had the opportunity to work with the Whistler folks, the Aspen folks, Squaw Valley—I learned a lot more about what their challenges are moving forward. And now to be able to work with the David Perrys and the Christian Knapps, these industry folks that I look up to, it's wonderful. For me it's a complete win," he said.
Colbourn said he has no plans to change SnoCountry's focus on broadcast communications because it's so powerful and unique; no other platform comes close to the distribution opportunities the organization offers. And he's impressed with how the veteran team has adapted and stayed current. "Now, you can go to your Amazon Echo, which has a 70 percent share of voice-activated media, and say, 'Alexa. Snow conditions at Stowe' or whichever mountain, and it'll provide the conditions," he said. "So I applaud this crew for jumping on this new technology. They've been on it for at least six months."
As a marketer, he said he has a million ideas, but will spend the first few months listening and learning, while traveling a fair amount. But one goal is clear: "Growing SnoCountry nationally is going to be in the top tier of, at least, our short and medium term goals," he said. "The ownership landscape is changing so rapidly, so I think there is a great opportunity for SnoCountry to help be a voice, or at least be part of the communications of these season pass groups, and ownership groups, and, frankly, skiing and riding in general. SnoCountry has all the tools to capitalize on these changes, which is professionally exciting for me."
In his new role, Colbourn said so much is different, but some things have remained the same: "This is really only the third full-time job I've had, so I've been very lucky in many ways. In this industry, I've never really considered it work—it's a lifestyle. And I see this new opportunity the same exact way."