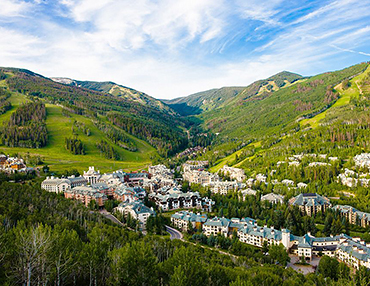 Beaver Creek, Colorado. Photo credit: Jack Affleck, Vail Resorts.SAM Magazine—Denver, Sept. 20, 2017—The trend of slipping occupancy and rising revenues that began last winter in Western destinations has continued through most of the summer, according to the monthly DestiMetrics Market Briefing released by Inntopia. And the trend may get worse before it gets better.
For May through October, as of Aug. 31, occupancy and reservations are down 0.5 percent compared to the same time last year for the 290 property management companies in 20 mountain destination communities tracked by DestiMetrics. That marks the first summer season decline in six years for these properties, which represent 30,000 rooms across Colorado, Utah, California, Nevada, Oregon, Wyoming, Montana, and Idaho.
Still, aggregated revenues for these destinations for the same period is up 7.5 percent, driven by steady increases in the average daily rate (ADR).
The Briefing also reported that actual August occupancy was down 1.2 percent compared to last August, the third consecutive month of declining occupancy, while revenues were up a healthy 8.4 percent.
"There has been a fundamental shift in lodging performance patterns that ... is now firmly established," said Ralf Garrison, adviser to Inntopia for the DestiMetrics product line. "This is the first summer since 2009 that we've seen industry-wide year-over-year declines in occupancy, although strong gains in rate have kept revenues well above previous year's figures."
The Briefing also provided an early glimpse into the coming winter season. In a sharp shift from a year aago, bookings made in August for arrivals at mountain destinations in August through January are down 10.6 percent compared to the prior year. Early bookings for the crucial months of December and January are also down significantly—16.7 percent for December, and 7.2 percent for January.
"There are several potential forces that may be contributing to the sluggish occupancy in recent months, led by increases in room rate but other variables such as available inventory compared to previous years may also be playing a role," explained Tom Foley, vice president of Business Intelligence for Inntopia. "And, looking ahead, the catastrophic damage from Hurricane Harvey ... may also impact mountain travel in [western] destinations this winter. However, it is unlikely that Harvey played a role in the August booking pace numbers," he continued.
"Economic conditions are ripe heading into the fall for early winter bookings, but the now well-established pattern of declining occupancy is something that needs to be monitored closely as we move closer to the prime winter booking season," concluded Garrison.