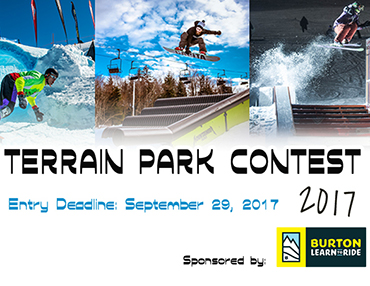 SAM Magazine—Woodbury, Conn., Sept. 20, 2015—There are only 10 days left to enter SAM's 13th Annual Terrain Park Contest, sponsored by Burton Snowboards. The November issue will showcase the most unique terrain park features, as well as the most innovative park events, from the 2016-17 season, but only if you enter. So start sorting through your creations, and submit your entries for the feature and/or events categories.
And don't delay: Please email a brief description, high-resolution picture, and/or video link to sarah@saminfo.com by Sept. 29. All entries will be featured in the November issue of SAM and/or online at saminfo.com.
The feature and event categories will each be chosen separately, through an online vote. Winners will receive prizes from our friends at Burton Snowboards, along with a year's worth of bragging rights. So once you submit your entry, encourage your colleagues to support your effort.
Remember, you have to be in it to win it.