SAM Magazine—Timberline Lodge, Ore., Oct. 11, 2017—Since September, winter storms have been dropping a fair amount of snow on the high country out West, stoking the excitement of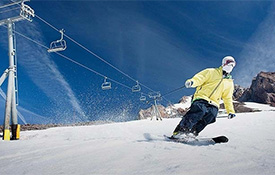 skiers and riders. Adding to the excitement, Timberline Lodge and Ski Area on Mt. Hood, Ore., laid claim to being the first ski area to open when it spun the Palmer Chairlift on Sunday, Oct. 8. Weather permitting, the lift will be open Saturdays and Sundays, 8 a.m. to 3 p.m., for advanced skiers and snowboarders.
Timberline received more than 600 inches of snow last winter. By opening on October 8, the resort got a six-week head start on the winter season compared to last year.
Next to open appears to be Arapahoe Basin, Colo., the perennial first to open in Colorado, often in lockstep with nearby Loveland. A-Basin will be the first to open for daily operations starting Friday, Oct. 13, at 9 a.m. The Black Mountain Express lift will provide access to the intermediate High Noon trail, and remain open as its snowmakers look to expand terrain. Last season, A-Basin opened on Oct. 21.