SAM Magazine—Flagstaff, Ariz., Oct. 17, 2017—Arizona Snowbowl, part of the Mountain Capital Partners group of resorts, plans to purchase the 37-acre Elk Ridge Ski Area near Williams, Ariz.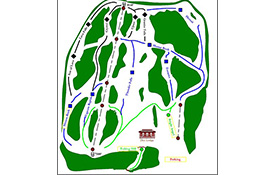 Pending a special use permit approval by Kaibab National Forest officials, the plan is to open Elk Ridge as soon as possible under the current operating plan. Improvements are being proposed.
Snowbowl general manager J.R. Murray called the purchase of Elk Ridge "a commitment to offering low-cost winter recreational opportunities and restoring its historical relevance and impact to the Williams economy. Our first priority is to evaluate the operations for this coming season, and work with the Kaibab National Forest to open tubing and some level of skiing."
Elk Ridge has two surface lifts, a Poma platter and a rope tow, which are top priorities for future improvements. "Our plans call for replacing both surface lifts with modern equipment that will provide access to all the ski slopes," said Murray. "We hope to eventually install a chairlift, which will revolutionize the alpine experience. The upper ski slopes have not been open for many years since the platter lift has fallen into disrepair." Plans also call for improving snowplay opportunities such as tubing and snowshoeing.
"Elk Ridge offers unique opportunities to partner with the community to provide more outdoor recreation to residents and guests," said James Coleman, managing partner of Arizona Snowbowl and Mountain Capital Partners. "The area has the potential to provide other year-round activities such as mountain biking and hiking."