SAM Magazine—Montpelier, Vt., Oct. 30, 2017—Vermont Ski Areas Association (VSAA) president Parker Riehle is stepping down after 19 years at the organization to open his own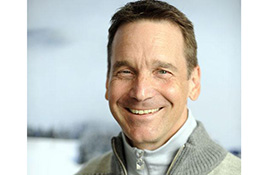 lobbying and public relations firm. His last day is Nov. 10. The VSAA board of directors has already begun the search for his successor to lead the association and the $1.6 billion ski and snowboard industry in Vermont.
"The Board of Directors wants to thank Parker for his many years of service as president and the leadership he provided to advance the ski community in Vermont," said Killington president and GM Michael Solimano, chair of the VSAA board of directors.
Riehle served as VSAA president for the last 11 years. He joined the association as director of government affairs in 1998, and later served as vice president and general counsel before becoming president in 2006. Riehle was named president of the National Ski Areas Association in late August, and then declined the role two weeks later, opting to stay in Vermont.
His new venture, called First Tracks Strategies, will focus on governmental affairs and public relations for the tourism and outdoor recreation industries.
"I'm eternally grateful for the incredible career I've had with Ski Vermont and for the tremendous support and understanding for my decision by the Board of Directors," said Riehle.