SAM Magazine—Dover, Vt., Nov. 3, 2017—After Arapahoe Basin in Colorado opened for the season on Oct. 13, neighboring Loveland Ski Area kicked things off a week later on Oct. 20, and now more ski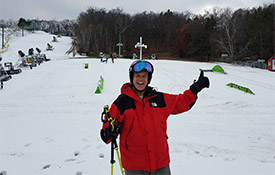 areas are spinning lifts—at least for this weekend—as cold weather and natural snow are becoming the norm in many regions across North America.
In the Midwest, perennial early-opener Wild Mountain, Minn., had guests making first turns on Oct. 29, and has been open daily since. Today it had three trails open with three lifts spinning on a max base depth of 36".
Trollhaugen in Wisconsin opened today with a base depth of up to 18" on two trails served by two lifts. It plans to stay open through Sunday, and hopes to continue operating on weekends if weather stays cold.
Mt. Norquay became Canada's first ski area to open for the season today. First chair went up at noon, and the Alberta resort plans to be open daily from 9 a.m. to 4 p.m. starting Saturday. According to its website, 42 cm (more than 16 inches) of new snow has fallen in the last week. Nakiska, which has gotten 61 cm (two feet) of snow in the last seven days, plans to open tomorrow with about eight trails served by two lifts.
Speaking of snow, there's a large winter storm bearing down on the West Coast that could leave behind a couple feet of snow in the Sierras. Mt. Rose, Nev., might be able to open after this weekend, depending on how productive the storm is. Mammoth Mountain in California appears to have the earliest planned opening date in Cali, slated for Nov. 9.
UPDATE: Next to open in Canada will be Sunshine Village and Lake Louise in Alberta, which plan to kick things off Nov. 7. Marmot Basin, also in Alberta, plans to open on Nov. 10.
In the States, Breckenridge, Copper, Keystone, Colo., and Arizona Snowbowl also plan to open on Nov. 10.
According to SnoCountry.com, Bretton Woods, N.H., plans to open Nov. 12, which is the earliest posted opening date of any ski area in the East.
As usual, many other resorts across the country are shooting for pre-Thanksgiving or Thanksgiving openings, and many others are scheduled to open in early to mid December.
Here we go. Winter is here.