SAM Magazine—Tannersville, Pa., Nov. 10, 2017—Brian Czarnecki has been promoted to the role of chief operating officer for Camelback Resort, Pa. Previously, he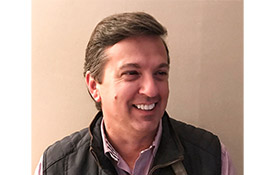 served as the resort's vice president of sales and marketing.
"In his new role, Brian will direct the operations, technology, brand and marketing of Camelback Resort's many business units, allowing us to direct our focus to additional projects, opportunities, and interests," co-owners Ken Ellis and Arthur Berry III wrote in an announcement to the resort's staff on Tuesday, Nov. 7, 2017.
Czarnecki will oversee Camelback Mountain, Camelbeach Waterpark, Camelback Lodge & Aquatopia Indoor Waterpark, and Camelback Adventures, while also leading the marketing, advertising and brand direction for the new H2OBX Waterpark on the Outer Banks of North Carolina, which opened this past summer, and The Kartrite Hotel & Indoor Waterpark in Monticello, N.Y., which will debut in December of 2018. The search for a new VP of sales and marketing to succeed Czarnecki has already begun.
"The past six years at Camelback Resort has been wildly exciting and fulfilling—believing in the vision of Art and Ken, moving the guest numbers to near 1.6 million annual visits, and having the opportunity to work with one of the best teams in the snow business. I just couldn't ask for more," said Czarnecki. "With the opening of The Kartrite Hotel & Indoor Waterpark in just 14 months, and entering the second summer of H2OBX Waterpark, the Outer Banks' only waterpark attraction, we just keep extending our brand's reach and equity."
Before coming to Camelback, Pennsylvania native Czarnecki worked at Hunter Mountain, N.Y., for five years.