SAM Magazine—Boston, Mass., Nov. 17, 2017—Longtime Rossignol sales rep Deno Dudunake was honored with the 32nd annual BEWI Award at a luncheon in Boston on Nov. 10, attended by more than 150 ski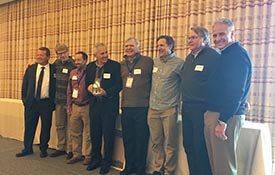 and snowboard industry executives. As a professional freestyle skier, Dudunake won the World Mogul Championship title at Heavenly, Calif., in 1977. He has been with Rossignol since 1978.

BEWI Productions president Bernie Weichsel stated, "Deno exemplifies not only what it means to be a 'pro' in his profession, but also is indicative of his lifetime zest for winter sports that he has dedicated himself to."
Dudunake grew up at a cattle and wheat farm in Black Rock, Idaho, and learned to ski at the age of 10 by being towed behind a car on local back roads. Skijoring gave him a start on both his career and a lifetime of fun on the slopes.
As a youth, he participated in swim and diving programs, which helped prepare him for inverted aerial maneuvers on skis. He got a taste for big air by entering Gelande competitions at the big mountains in Utah, using 215cm skis.
Rossignol, recognizing early on that there was a big future for freestyle skiing, put together a team to develop and test appropriate new equipment. While still in high school, Dudunake was named to that Rossignol development team. He turned pro in 1974-75 and joined the newly formed Professional Freestyle Pro Tour, which consisted of moguls, ballet, and inverted aerials. He joined the pros who also toured urban locales to perform their ski tricks on artificial ramps, landing in huge airbags, usually in some arena parking lot.
Since retiring from competitive skiing in the spring of 1978, he has been affiliated with the Rossignol sales team. In 1990, he teamed with Will Masson to form Northeast Sales, supporting Rossignol products throughout the region.