SAM Magazine—Teton Village, Wyo., Nov. 30, 2017—After a 47-year career in the ski and tourism industries, Jackson Hole Mountain Resort president Jerry Blann will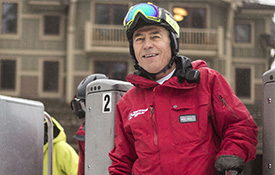 retire after the 2017-18 winter season. He has spent the last 22 years as JHMR's president. Prior to leading JHMR, Blann was president of Aspen Skiing Company, where he worked for 18 years, and also was president of Bear Mountain, Calif.

Blann said one of his motivations is to spend more time traveling, skiing, and spending time with his wife and family. "There is an irony when you work in the tourism industry that you have little time to actually enjoy the benefits," he said. "I've worked hard with a passion for the ski industry and have extraordinary admiration for an incredible team at JHMR. Proud does not begin to describe it, but gratitude certainly does. I'm thankful to all those with whom I have the opportunity to work over the years."
Since Blann came to Jackson Hole in 1995, he's overseen more than $200 million in capital improvements at the resort. Winter used to be the slow season in Jackson compared to summer, and it's now a thriving draw, with skier visits nearly tripling during his tenure to almost 600,000 a year. He also spearheaded the Teton Village Master Plan and worked to dramatically improve air travel options to Jackson Hole.
"The Kemmerer Family has been honored to have Jerry's leadership for nearly 23 years," said Jay Kemmerer, JHMR's owner and chairman. "His steady hand over many years has been greatly appreciated. We congratulate his stewardship and wisdom to lead one of Wyoming's greatest assets. He has been a true friend and a pleasure to work with. Following the 2018 ski season we want to celebrate his past and cheer his future." In January, the Kemmerer family expects to make an announcement on Blann's successor.
Wyoming Governor Matt Mead said, "I would be surprised if any ski resort president has done more for a mountain resort than Jerry over these last 22 years. His leadership at the Village, in the community and across the state is as awe-inspiring as the mountain itself. I say a big Wyoming thank you to a friend and great leader."
Read this article that ran in SAM in 2004 about Jerry Blann's far reaching influence, "The Dream Team."