SAM Magazine—Broomfield, Colo., Dec. 12, 2017—In its most recent quarterly earnings report, Vail Resorts said it expects to sell a total of more than 740,000 Epic Passes this year,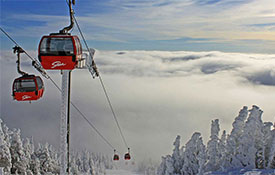 with sales up roughly 14 percent in units and 20 percent in sales dollars.
The quarterly report itself covers the period ending Oct. 31, including a significant portion of the summer/fall business. The company reported a year-over-year total net revenue increase of $42.6 million, or 24 percent, buoyed by summer operations at Whistler Blackcomb and winter ops at Perisher in Australia. The quarterly net loss was $28.4 million compared to a net loss of $62.6 million for the same period in 2017.
VR's winter outlook is positive, assuming a normal snow year, thanks to continued season pass growth. "This year, we have continued to drive significant growth in our destination markets, which represent approximately 60 percent of our increase in pass units," said CEO Rob Katz. "We continue to see strength across all geographies, with particularly strong performance in Northern California, the Pacific Northwest, and the Northeast, and continued solid growth in Colorado and British Columbia." Katz noted strong growth in international markets, particularly Australia, the United Kingdom, Brazil, and Asia.
Overall lodging bookings for the season are trending slightly ahead of last year, despite a slow start to the winter at many of the company's resorts. "Based on historical averages, less than 50 percent of the bookings for the winter season have been made by this time. Our early season results have been mixed across the network. Whistler Blackcomb and Stowe have had a strong start to the season, with early snow and cold temperatures conducive to snowmaking. Colorado and Utah have been challenged, with limited early season terrain," said Katz.
VR also outlined its capital plan for 2018. The company plans to make significant capital investment at Whistler Blackcomb to the tune of $42 million (C$53 million), which includes the installation of a new base-to-summit gondola and a new high-speed quad at Blackcomb, and a new high-speed six-passenger lift at Whistler. "Together, these investments are expected to result in an approximate 43 percent increase in lift capacity relative to the existing lifts that will be replaced," said Katz.
Several other resorts are getting new lifts and other investments into improvements. Katz said, "We expect our capital plan for calendar 2018 will total approximately $150 million excluding the integration of Stowe and summer investments."