SAM Magazine—Denver, Dec. 14, 2017—Conditions leading into the Christmas holiday have been varied across the U.S. Up until the past few days, the West had been suffering from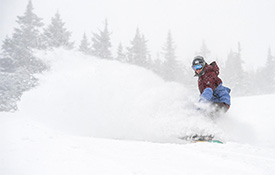 unusually warm temps and lack of snow, a situation some resorts have finally been able to remedy as cold nights have allowed for long-awaited snowmaking. Things haven't been much wetter—or colder—in many parts of the Pacific Northwest or California. However, resorts in the East have been getting hammered for the past four or five days, and it looks like cold temps there will be sticking around for a while.
A majority of the East has been seeing snow, especially northern New England, and forecasts are calling for the cold to stick around with more flakes possible. A storm that began Monday night and lingered through Wednesday morning over-delivered, with double-digit snow totals from southern Vermont to Maine. In Vermont, accumulations over the last few days range from 17" at Sugarbush and Stowe, to 21" at Bolton Valley, and nearly three feet at Smuggs' and Jay Peak. The new snow helped Stowe lay claim to the most open terrain in the East, with 80 trails and 370 acres.
New Hampshire had a good week, too, with Bretton Woods reporting 26" in four days, Cannon with up to 27" in the past week, and Wildcat getting 18" from this last storm alone. Sunday River and Sugarloaf—the only two resorts open in Maine as of Friday—each have received more than a foot of snow this week. It's going to stay relatively cold, which is good timing—about 30 resorts in the region are open, with the bulk of the rest opening or re-opening full-time this weekend, Dec. 15-16.
Most of New York's ski areas should also be open by this weekend. Those in the western part of the state have been benefitting from recent lake effect snow, including Holiday Valley, which is currently open with 17" of fresh in the last four days. Peek'n Peak opens tomorrow on a coating of 18" that fell in the past week.
The Southeast has been enjoying a wintery start to the season, too. Most open resorts are reporting at least three inches of snow in the last few days, including Sugar Mountain, N.C., with 10" this week. Cold temps are allowing the snowmaking systems in that region to flex their muscles.
Though not as heavy, the Midwest is getting its share of snow, too. Minnesota, Michigan and Wisconsin are reporting some of the highest snowfall total, which is expected to become more light-to-moderate for the next week. It's more common to see reports in the 1"-3"-range over the past week, but standouts include Mt. Brighton, Mich., with 11" in the past four days, and Trollhaugen, Wis., with 7" in a week. At least 23 ski areas are open for business, with most others slated, as in the East, to open for the season this coming weekend. Highs throughout the region are below freezing, and all open resorts are actively making snow.
In the West, the Rockies got off to a slow start, but things are looking up. There are exceptions to the slow start, including the Jackson Hole-to-Big Sky bull's eye and some areas of the Northern Rockies. Jackson Hole's season total is up to 141" with a 49" base on upper mountain.
While the first half of December was dry with unusually high temps, it appears that snowmaking conditions have improved, and Western areas are opening more terrain. Steamboat, for one, had just 64 acres of terrain open at the beginning of the week, but has more than doubled that in the past few days, buoyed by an influx of prime snowmaking conditions. In Utah, Park City has nearly 300 acres open. However, Powderhorn, Colo., had planned to open on Friday (Dec. 15), but had to push opening day back until the snow arrives. With snow in the forecast this week, the situation might not be as dire as it looked a week ago.
It's been relatively warm throughout the Pacific Northwest, too, though up in Alaska, Alyeska is reporting 26" of snow in the past four days. Mt. Baker, Wash., is nearly 100 percent open on a max base depth of 72". Early-season weather forecasts said the region should expect colder-than-average temperatures this winter, so hopefully that will happen sooner vs. later. Some areas of Canada—Fernie in British Columbia, for one—have seen some substantial snowfall in the past week as well.
In California, a fast start to the season has since leveled off with mild, dry days dominating the weather in much of the state. Sugar Bowl is reporting a plethora of beautiful, bluebird days coupled with temperature inversions that haven't allowed for much snowmaking. The team was finally able to fire up the snowguns at lower elevations Monday night, and the resort is hoping for a few solid nights of snowmaking so it can open more terrain. The exception in Cali is Mammoth Mountain, which has 124 trails open covering more than 2,500 acres of skiable terrain. Conversely, Heavenly has just 122 out of 4,800 acres open.
As usual, this report was informed using online resources and news releases we receive from resorts. If your resort is off to an incredible start, tell us about it in the comments below.